▲
Contact: Annemarieke Jongsma
email me
or call 1-888-712-3224
Aqua Rock
Terres Basses, St.Maarten - 4 bedroom villa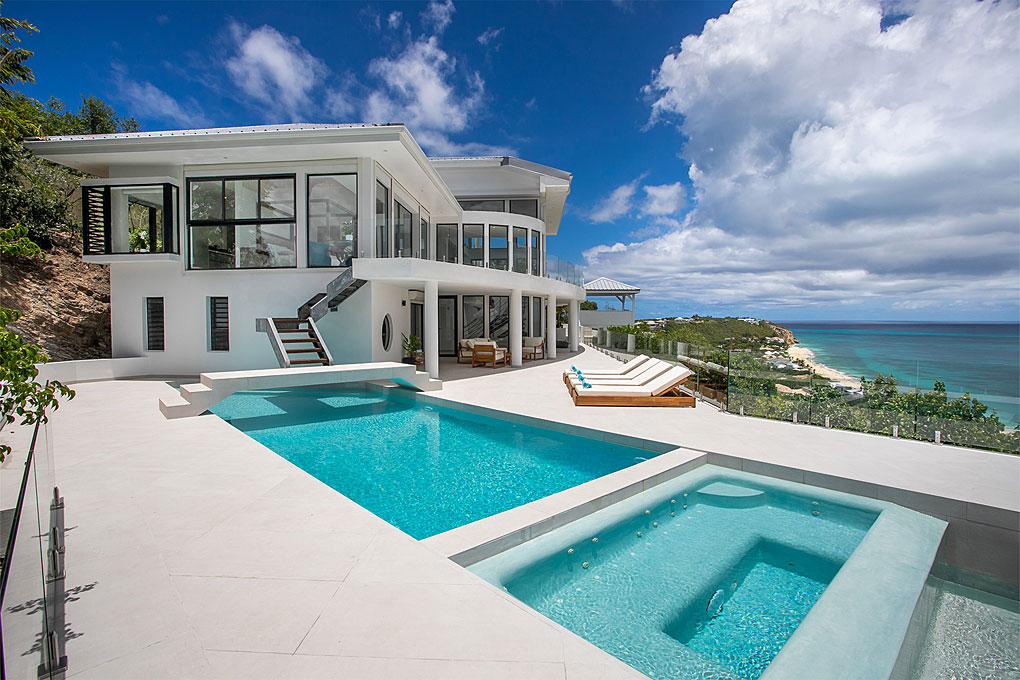 Aqua Rock is a contemporary-chic style villa with magnificent displays of the wonderful Baie Rouge Beach and beyond to Anguilla. This home earns its title through the vast views of the Caribbean Sea and the red rock that provides the home with its spectacular cliffside positioning. Expansive windows adorn the perimeter of this property, with floor-to-ceiling length glass, encouraging light to come in and showcase the interior. Outdoors there is an array of seating opportunities from the gazebo to the designated viewing jacuzzi in the pool to watch the sky change and the boats float by. The three-story villa accommodates four bedrooms, four and a half bathrooms and a variety of amenities any guest would be thrilled to utilize. The house stands as a single structure, capturing that communal, yet private feeling for all of the clients. The modern and captivating Aqua Rock is perfect for all clients looking for a secluded yet distinct villa to bask in the rays and appreciate the remarkable view.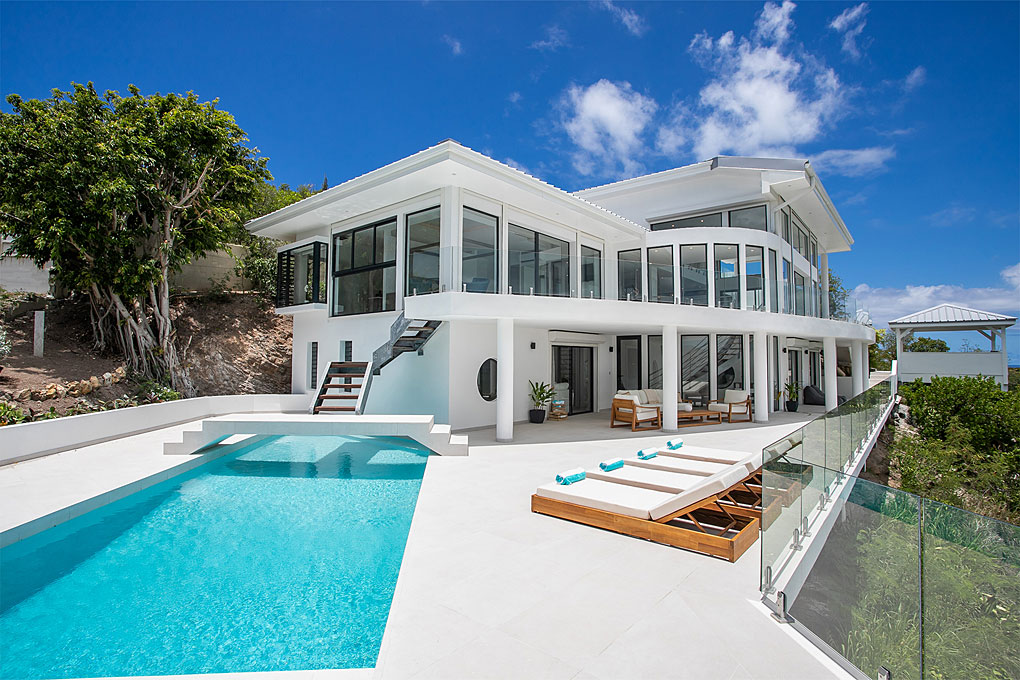 Once guests arrive at the villa, the scenic sea and skies instantly grasp their attention. The exterior greets visitors with two levels of terrace withheld by clear glass railings among a variety of fantastic features. The upper level reveals a shaded outdoor dining area, to enjoy a delicious meal, while still experiencing the pleasant environment with that gentle breeze. There is a set of steps on either side of the upper balcony that ascends gracefully above the pool and forms an enchanting arch above it. The glistening pool offers the opportunity to swim beneath this arching bridge, seamlessly gliding from one end to the other. Within the pool structure is a luxurious seated jacuzzi that faces the view towards Marigot, perfect for those summer months spent with a refreshing glass of Champagne. Alongside this space are lush deck chairs and lounge chairs to sit back and unwind after a dip in the water with a novel in hand. The gracious glass railings direct towards an opportune gazebo with comfortable cushioning for watching the sunrise and sunset throughout the day.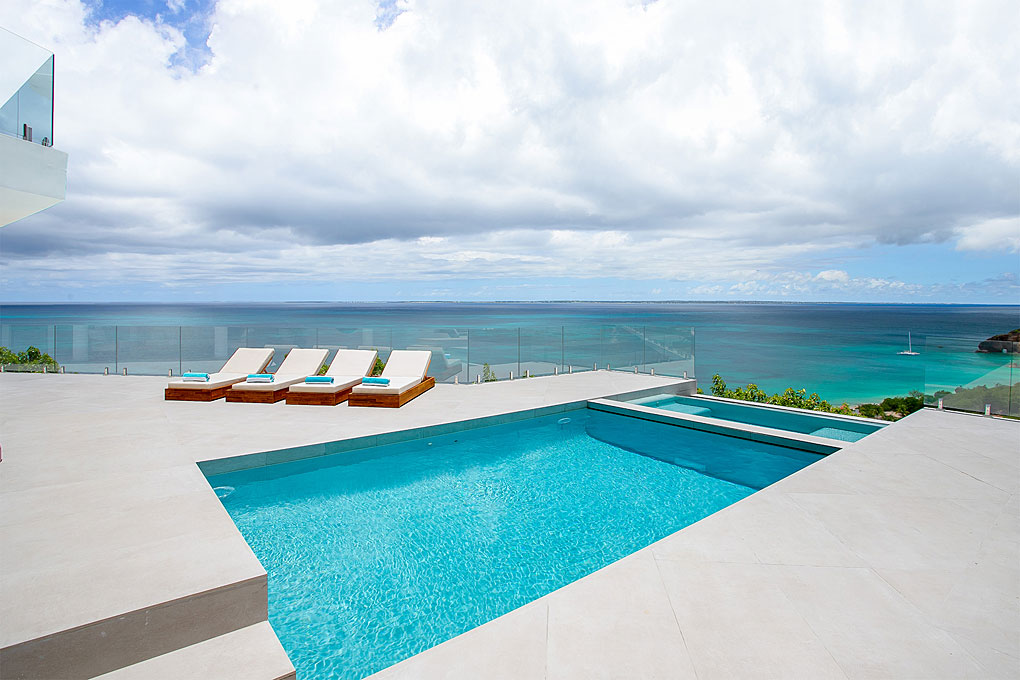 Walking through the canopy entrance unveils an entertainment section perched on what emulates a floating platform above the central living space. This area includes an off-white L-shaped sofa that faces the TV with a Bose sound system to create a truly immersive ambience. To the right are stylish stainless steel steps with wooden slabs that lead towards the open-plan living space. The dining table sits at the heart of the room with an authentic wooden furnish, similar to the steps. Next to this is the bright kitchen with a pristine island tied in by the wonderful chevron tiling. There are a variety of amenities with a considerable, double-door fridge for storing plenty of food, a wine cooler for refreshing chilled bottles and a Nespresso machine for necessary coffee demands. Facing the window is a neutral couch with cream accents offering an unobstructed panorama that comes to life, especially during the evening, where the delicate lights of Anguilla emerge on the horizon.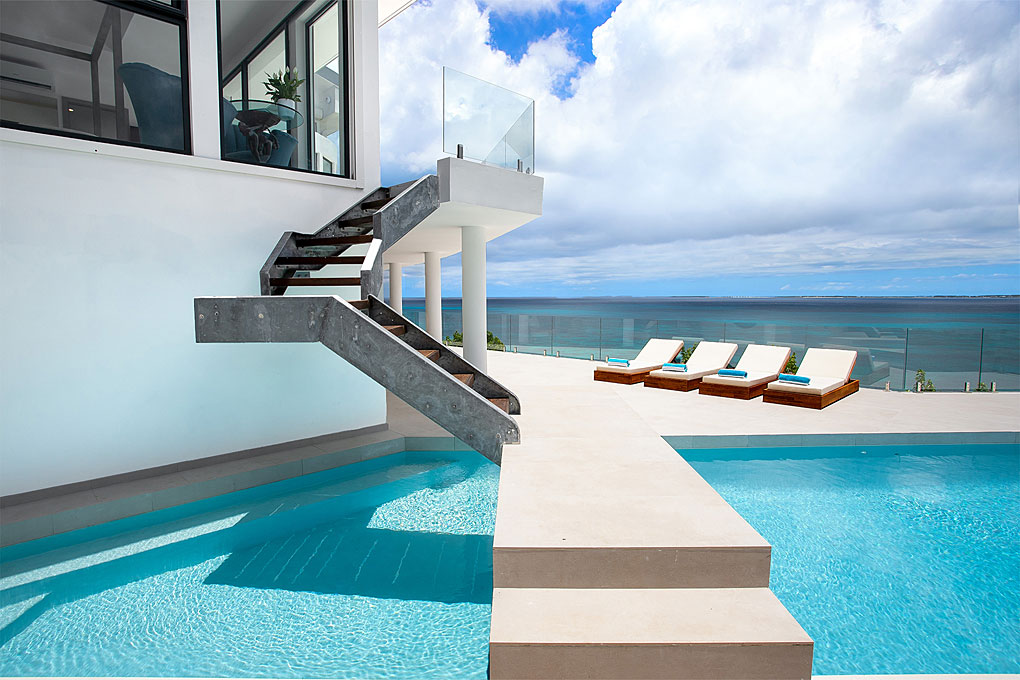 Aqua Rock has four incredible bedrooms with private ensuite bathrooms, spacious closets and king-size beds. The main bedroom stems from the living space in which guests get to wake up to the breathtaking St.Martin skyline from the comfort of the bed. Behind the bed, is a double vanity, with a separate bathroom and a walk-in closet. For bathing, there is a wide shower with windows to look out at the view, with a curtain for privacy, and a crisp black bathtub to indulge in the utmost tranquility. Heading to the lowest level will reveal three bedrooms, one of which has a double vanity, while the others offer singular vanities. The bedrooms are private with interior and exterior access yet in close proximity to the main socializing spots of the house for meeting up with the other guests.
In the heart of Terres Basses, St. Martin, Aqua Rock stands as a contemporary-chic marvel, offering an unparalleled vantage over Baie Rouge beach and beyond to the enchanting Anguilla. With its seamless fusion of indoor and outdoor spaces, luxurious amenities, and breathtaking views, this villa presents an invitation to both relaxation and indulgence. A true oasis of elegance, Aqua Rock captures the essence of a secluded haven, where every moment is a symphony of comfort and natural beauty.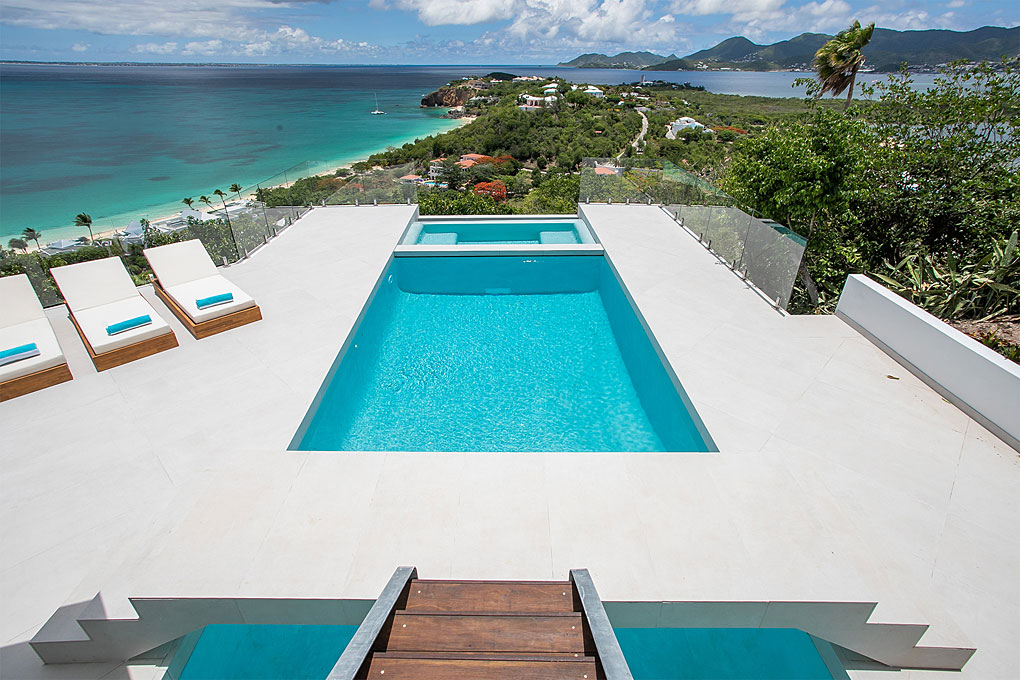 Villa Specifications:

Location: Morne Rouge, Terres Basses / Sunrise views
Pool: yes, 33'x12' / 10mx3.6m, heated (from 12/5-4/15), jacuzzi (12'x7' / 3.6mx2m, heated)
Bedrooms:

Bedroom 1: 100 sq.ft/30 m2, floor level -1, interior access, king bed, bathroom ensuite with shower and bath, 220V, Smart TV, a/c, safe
Bedroom 2: 100 sq.ft/30 m2, floor level -2, interior/exterior access, king bed, bathroom ensuite with shower, 220V, Smart TV, a/c, safe
Bedroom 3: 65 sq.ft/20 m2, floor level -2, interior/exterior access, king bed, bathroom ensuite with shower, 220V, Smart TV, a/c, safe
Bedroom 4: 65 sq.ft/20 m2, floor level -2, interior/exterior access, king bed, bathroom ensuite with shower, 220V, Smart TV, a/c, safe
Total bathrooms: 4½. Bathrooms feature hair dryers and toiletries

Living Room:

-1 floor level, shutters, 220V, Smart TV, iPod docking station, speakers, home theater, a/c

Kitchen:

Blender, Microwave, Toaster, Toaster Oven, Coffee Maker, Nespresso, Juicer, Dishwasher, Fire Extinguisher, fridge, electric stove/oven, ceiling fan, a/c

Miscellaneous:

Gym coming soon! Child friendly, no pets on property, located in community, gated, ocean view, generator, smoke detector, WiFi, outdoor speakers, parking for 2 cars, floatation devices, outdoor dining, BBQ, Washer/Dryer (available to clients), Iron, Concierge services, housekeeping included. Chef's services available.

Location:

Nearest Beach: Baie Rouge
Nearest Grocery Store: Carrefour Market/Maho Market
Nearest Bakery: Rendez-Vous Lounge
To airport: 10 min.
See also map below

Weekly rates (excl. 10% government tax):
                                  2 bedr.   4 bedr.
    April 16 - December 17:       $ 6,500   $ 8,000
    January 8 - April 16:         $ 9,500   $12,000
    Christmas/New Year's:         $24,000   $24,000

Contact Annemarieke Jongsma -
call toll free 1-888-71BEACH
or e-mail
sxm@gobeach.com
for latest availability.
Since I have seen almost all villas, I can also give you some other recommendations if needed.
Villa Location:

View in Google Earth:
[this villa only]
-or-
[all villas]

View in Google Maps:
[this villa only]
-or-
[all villas]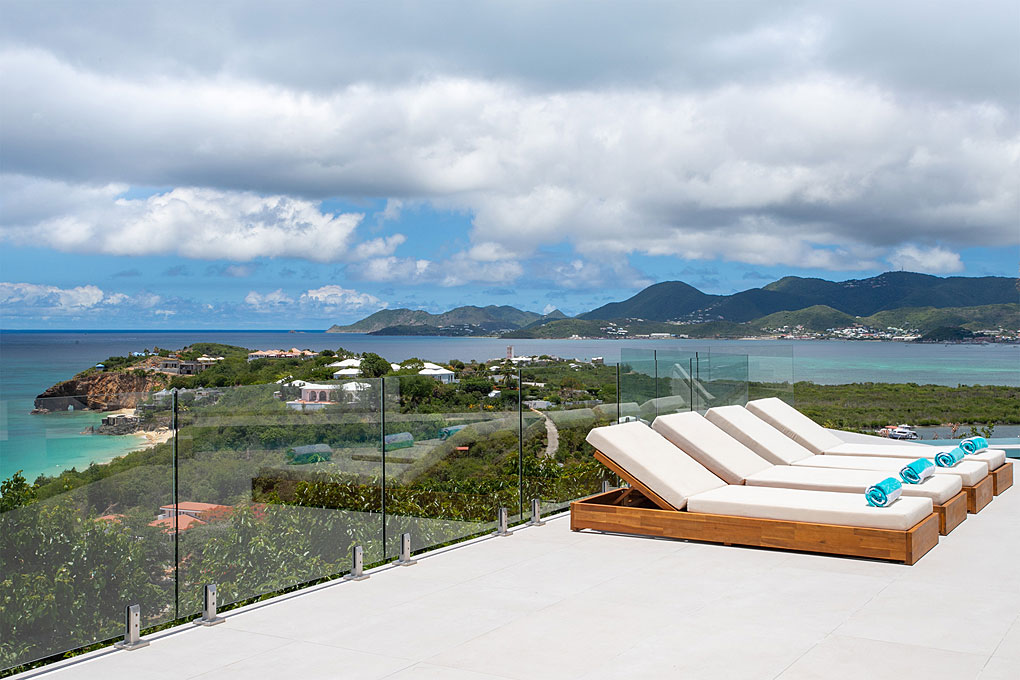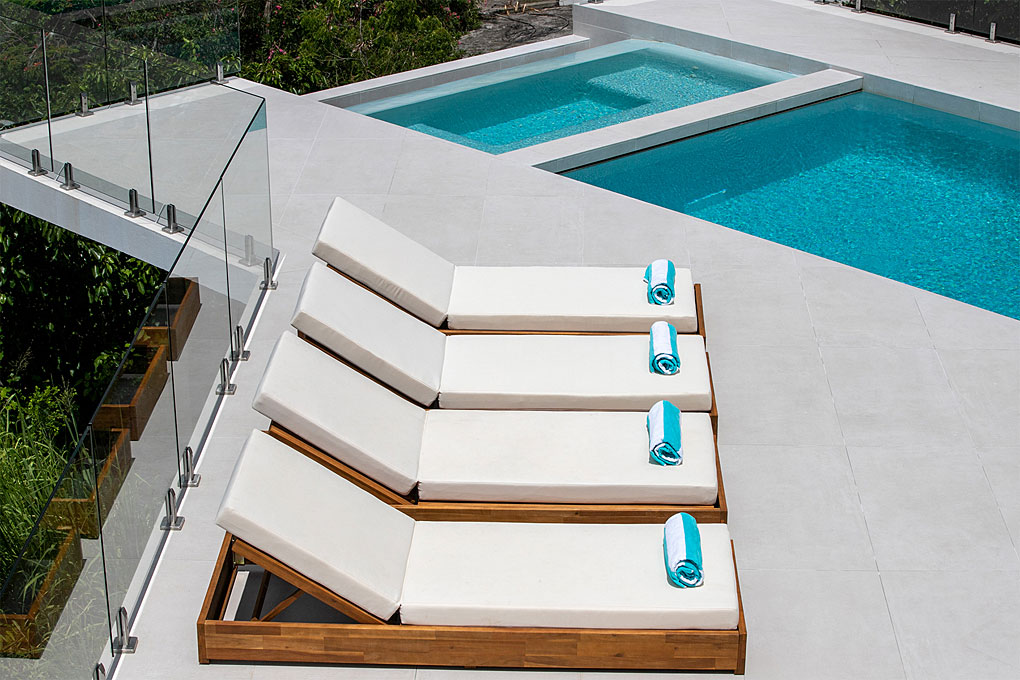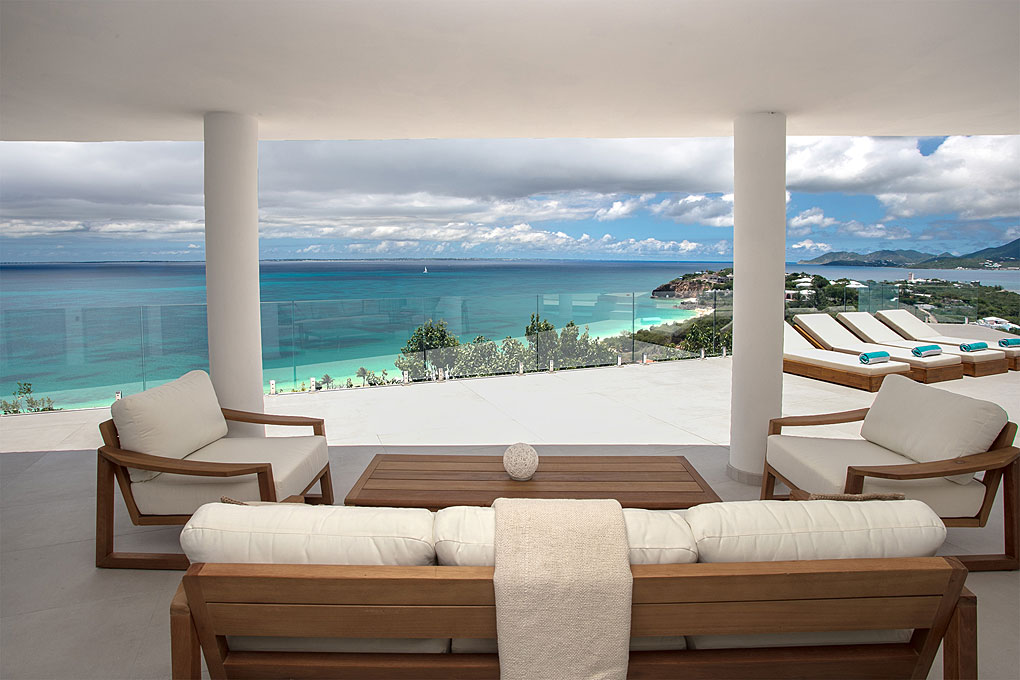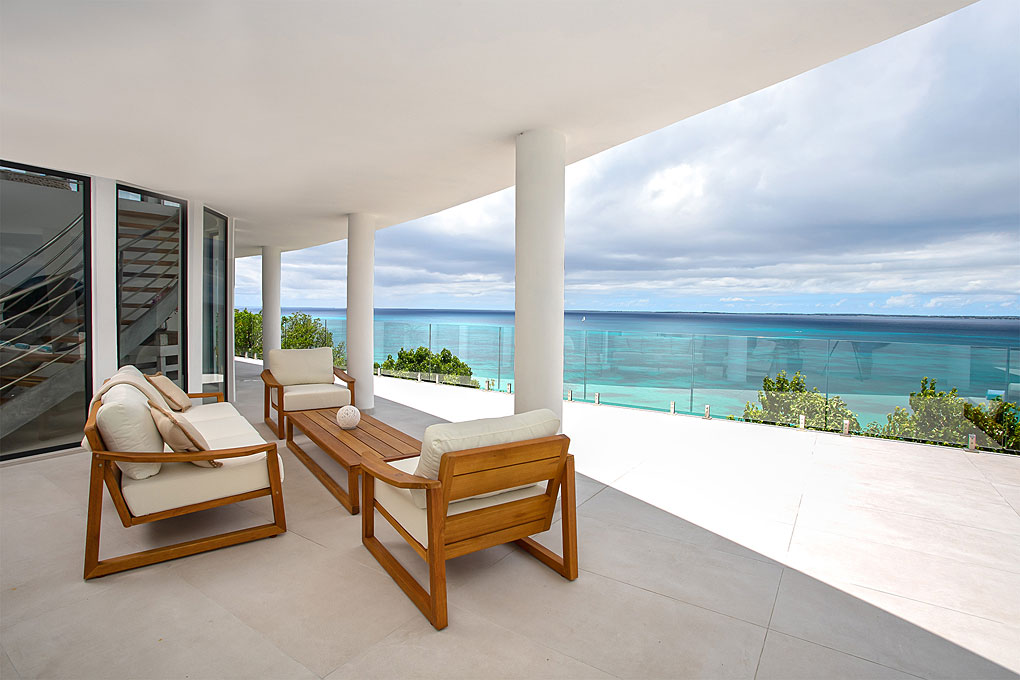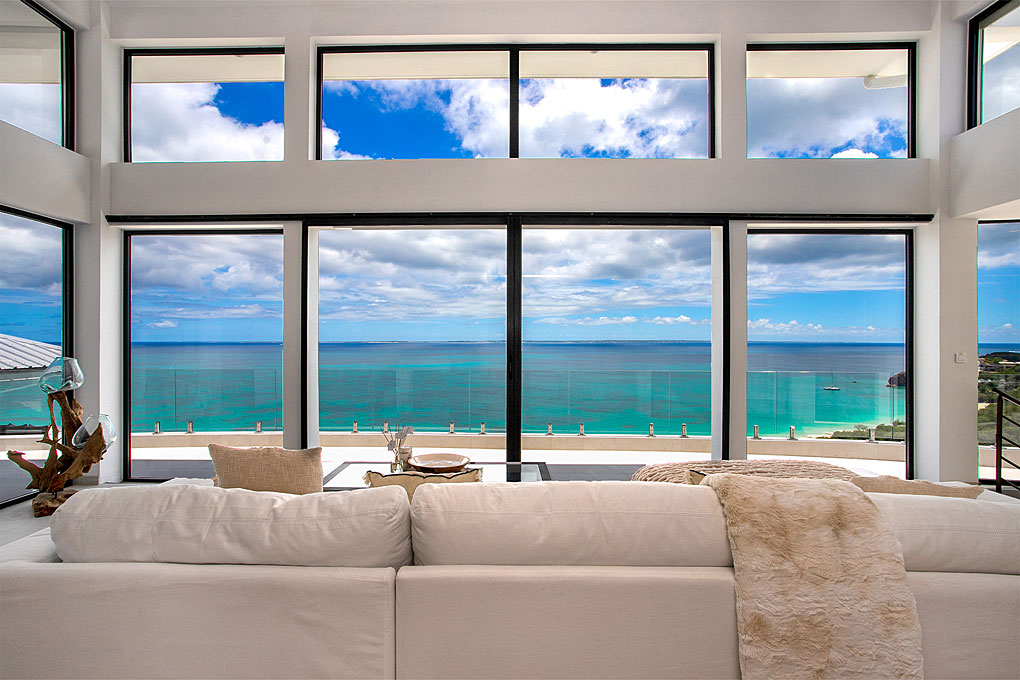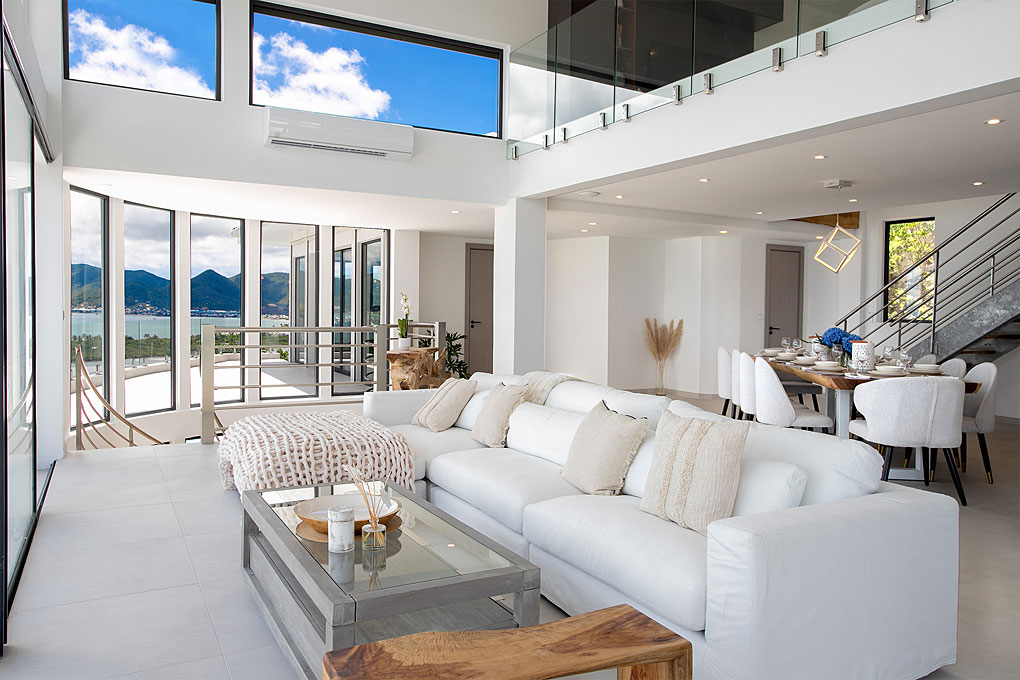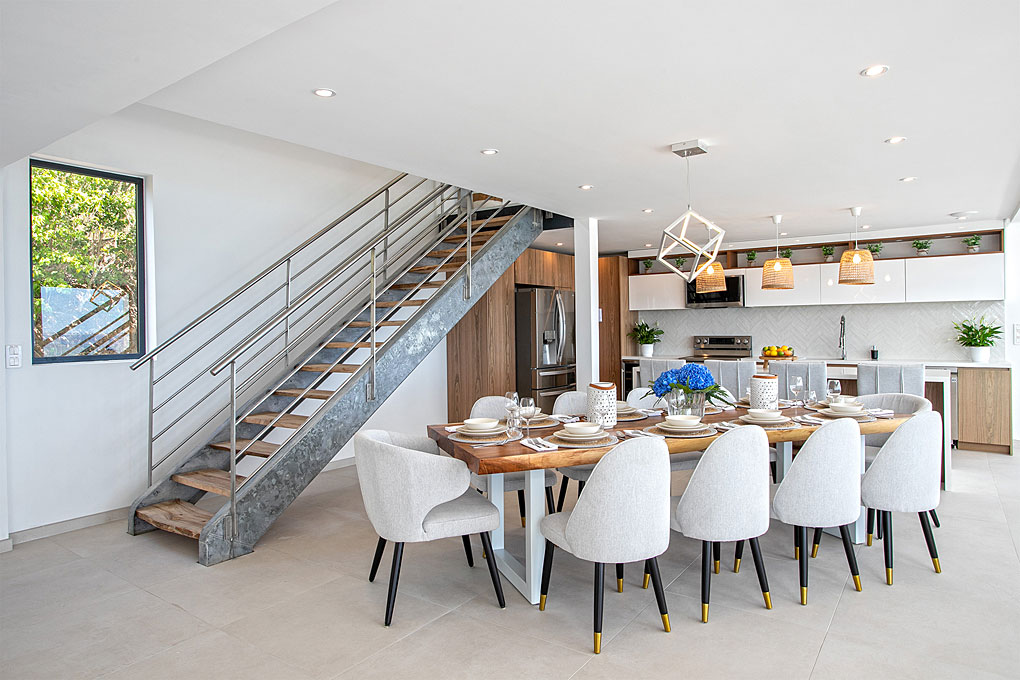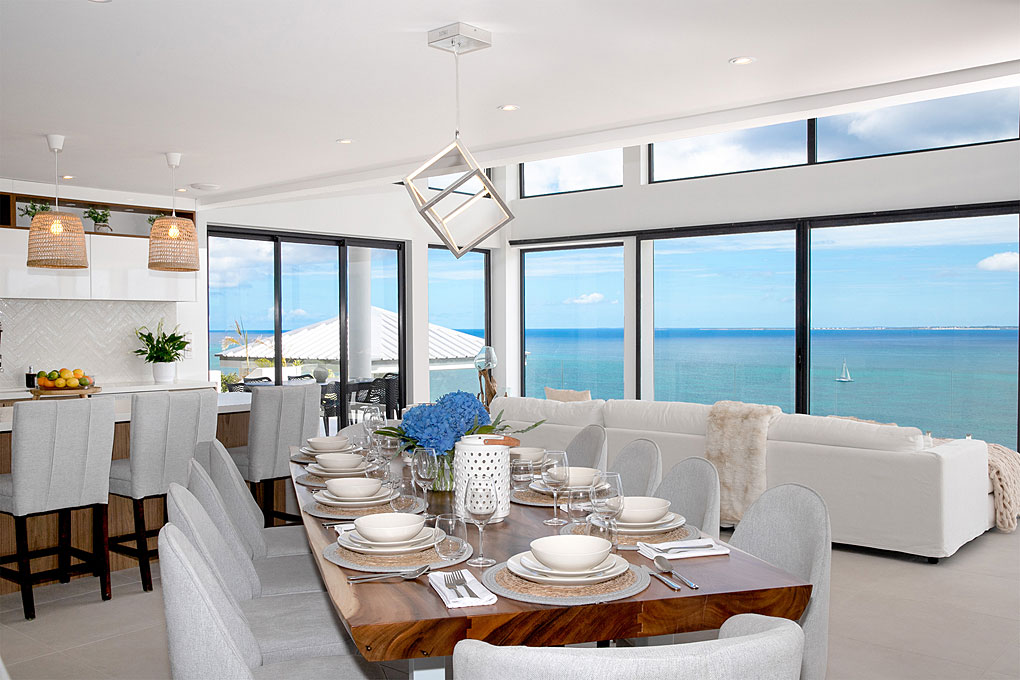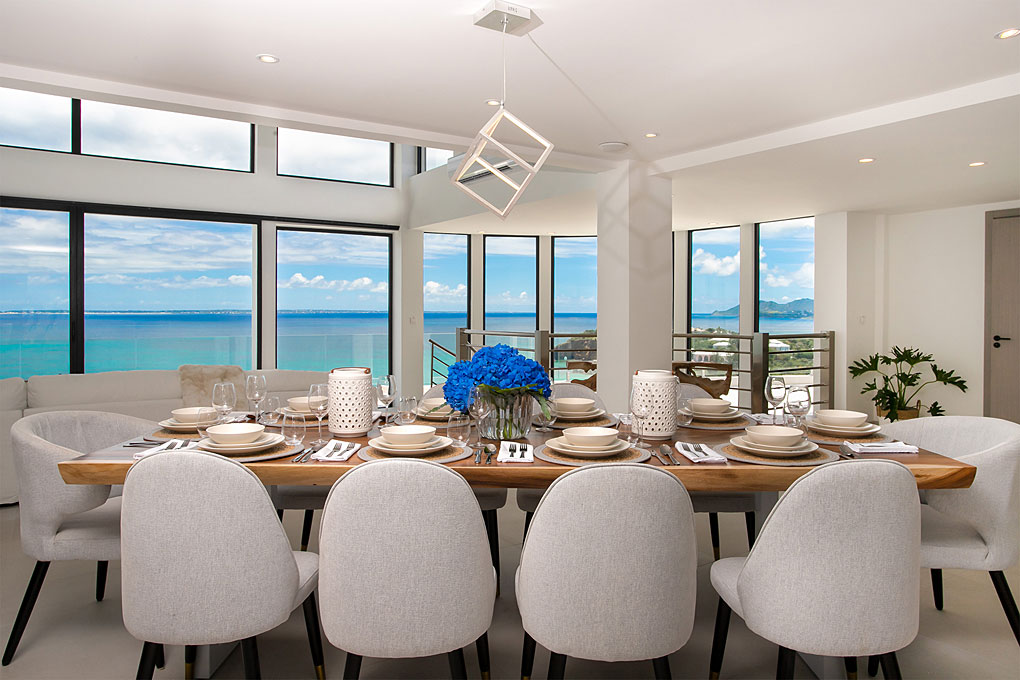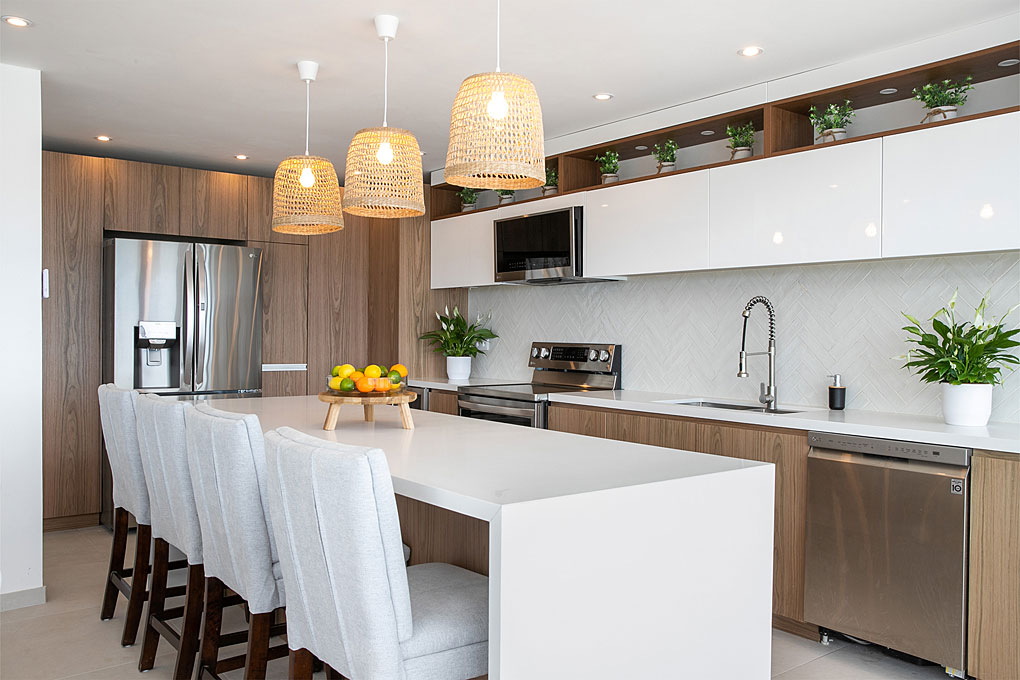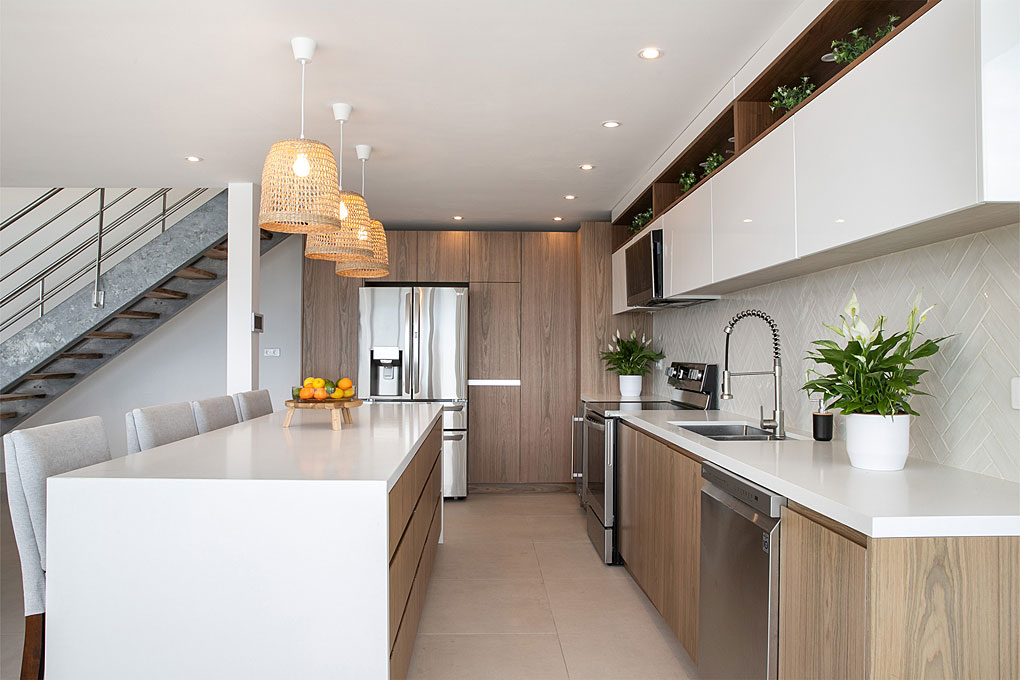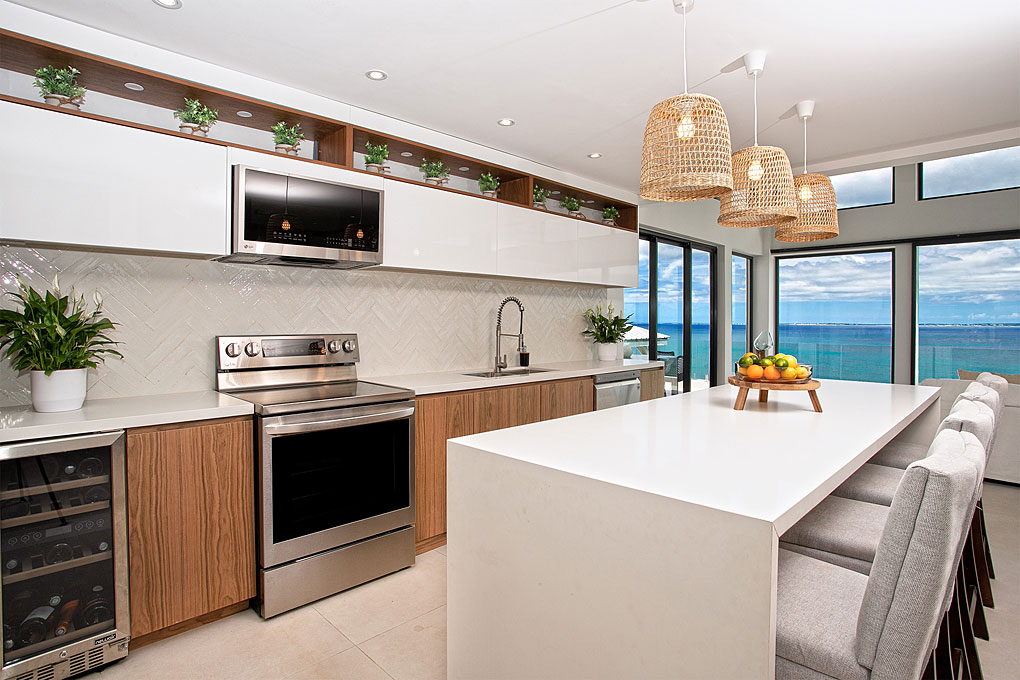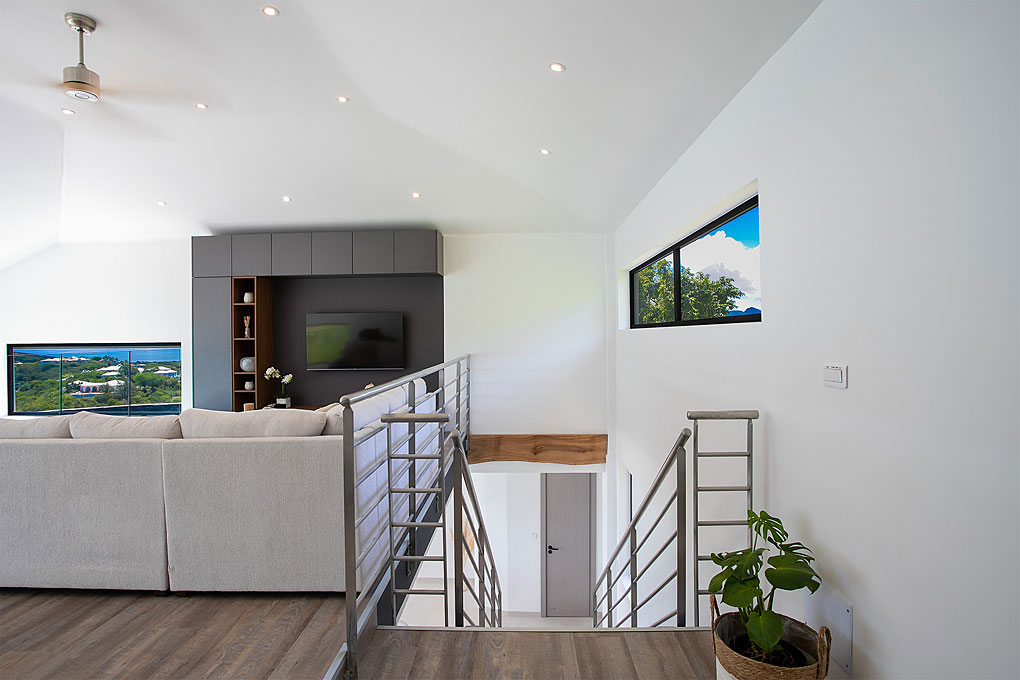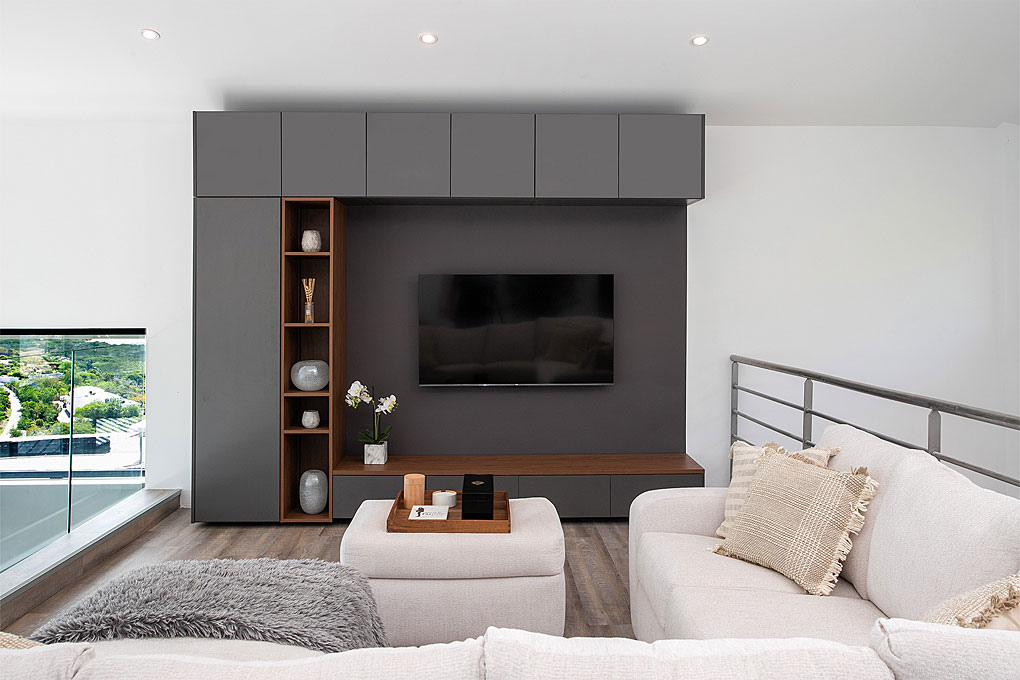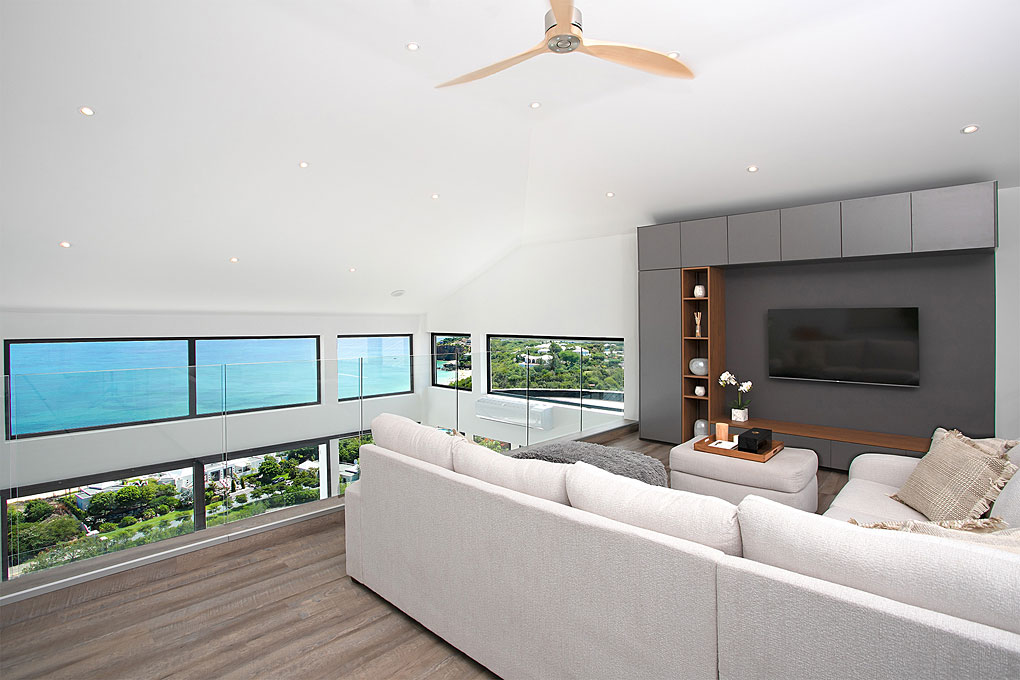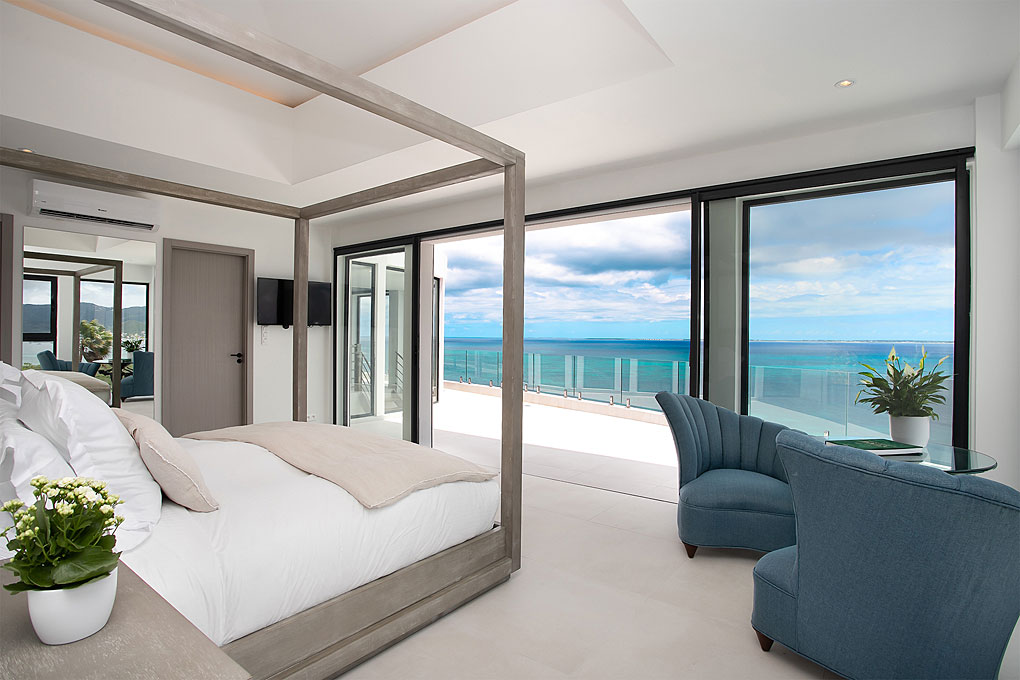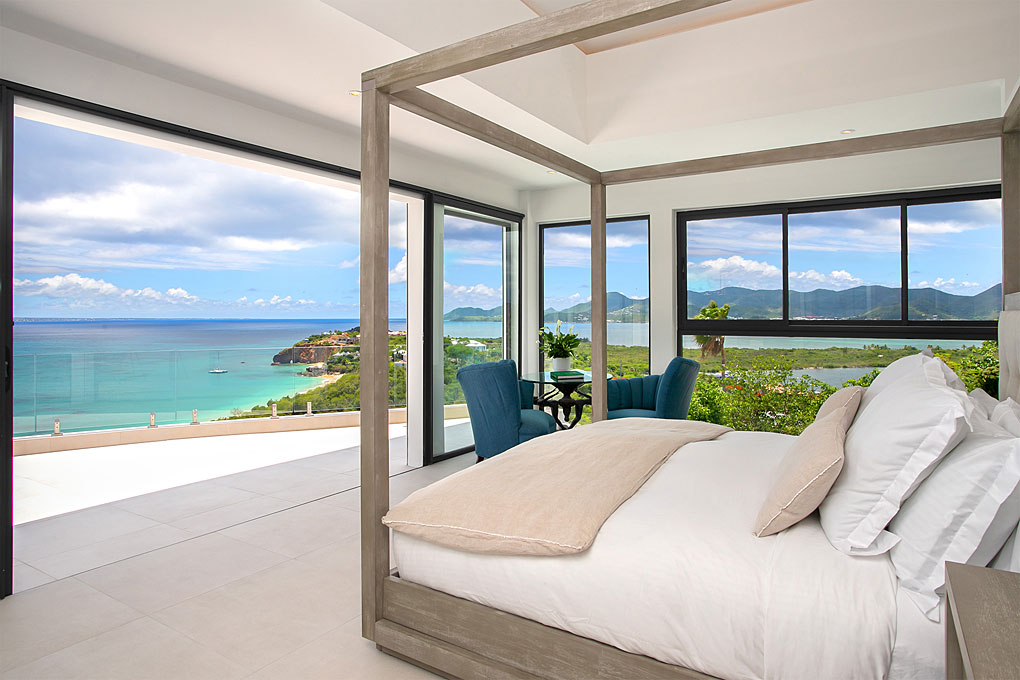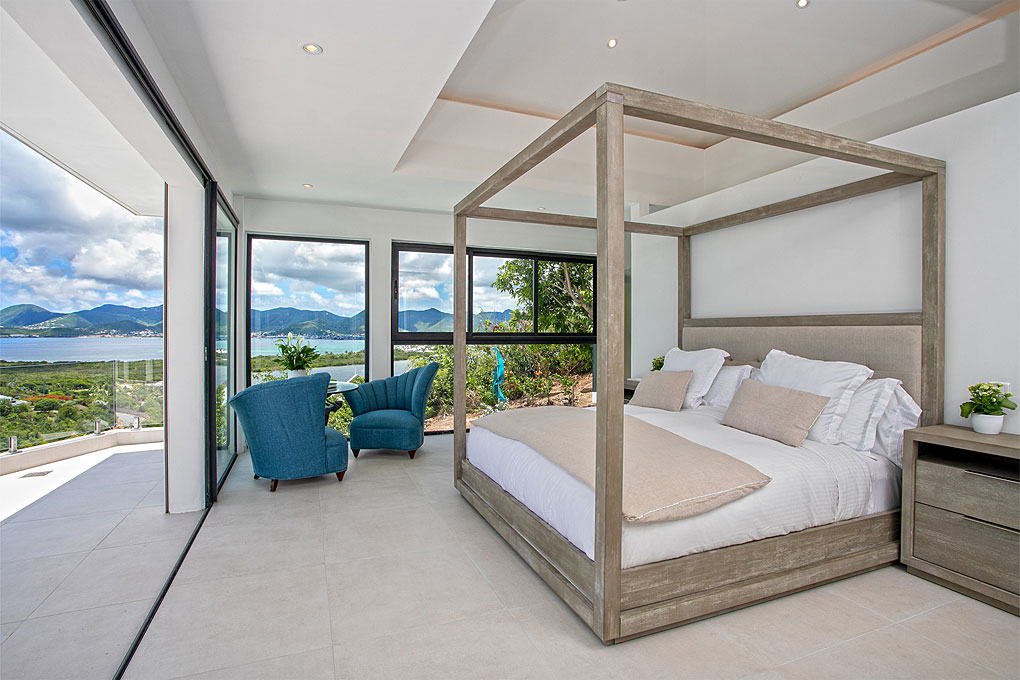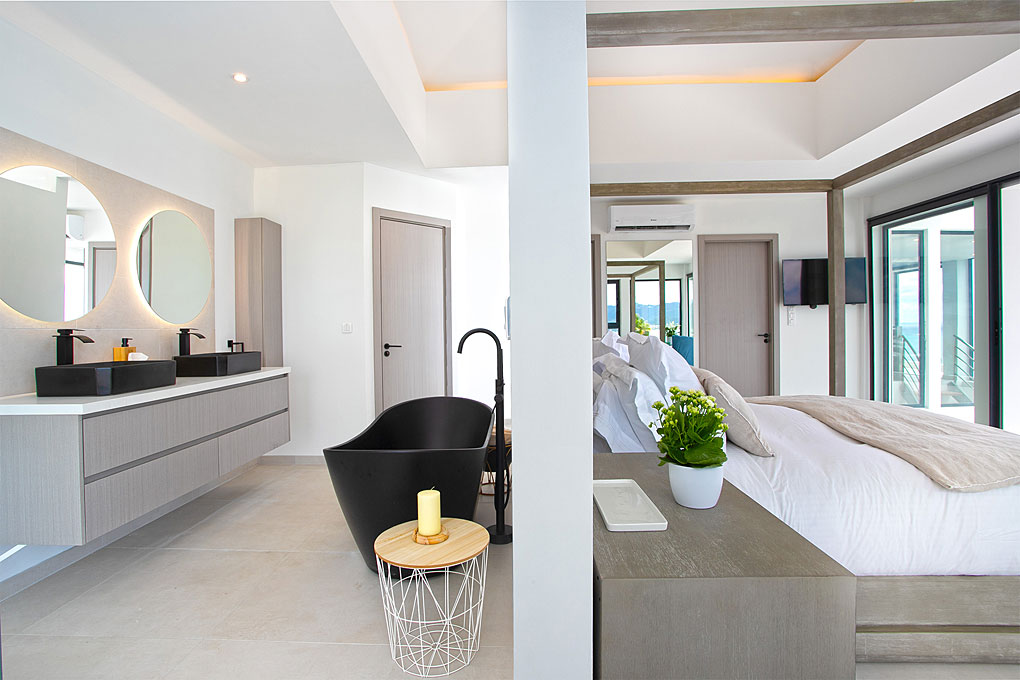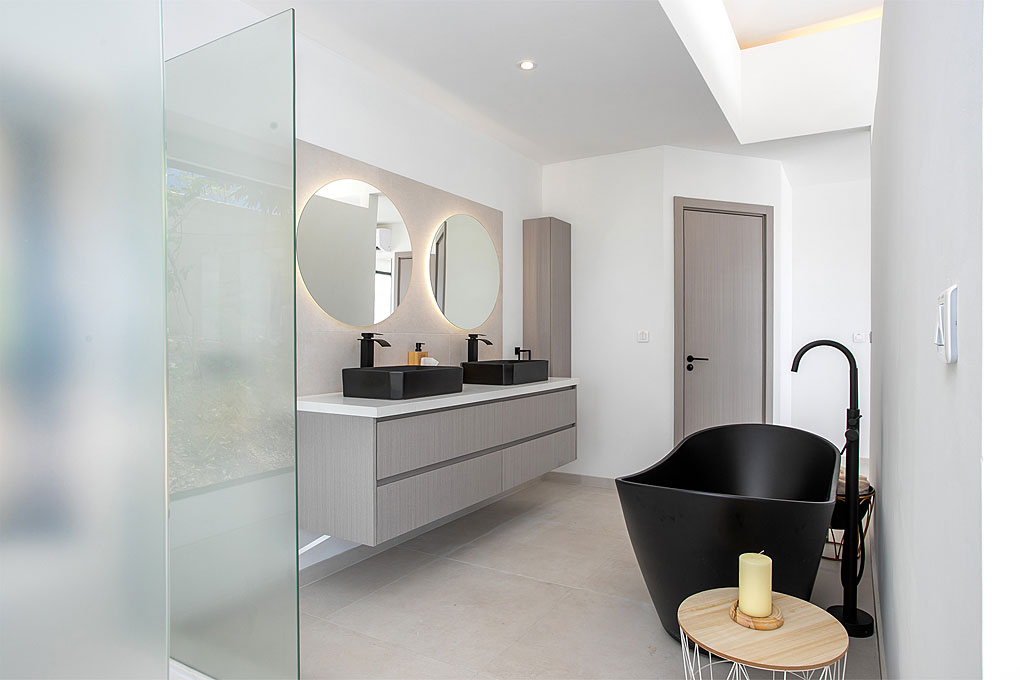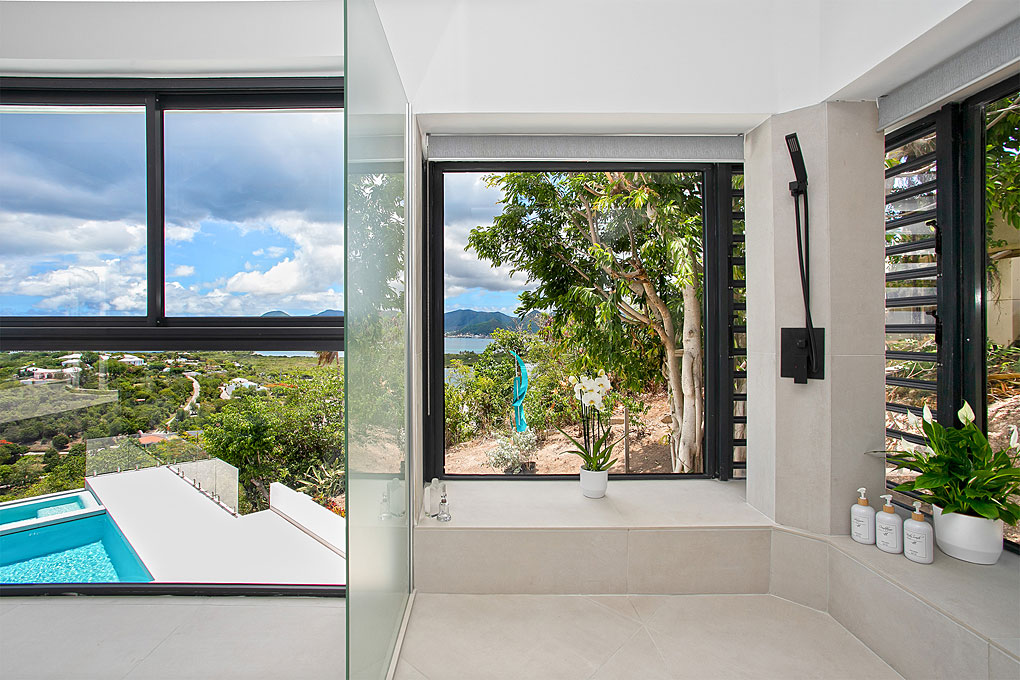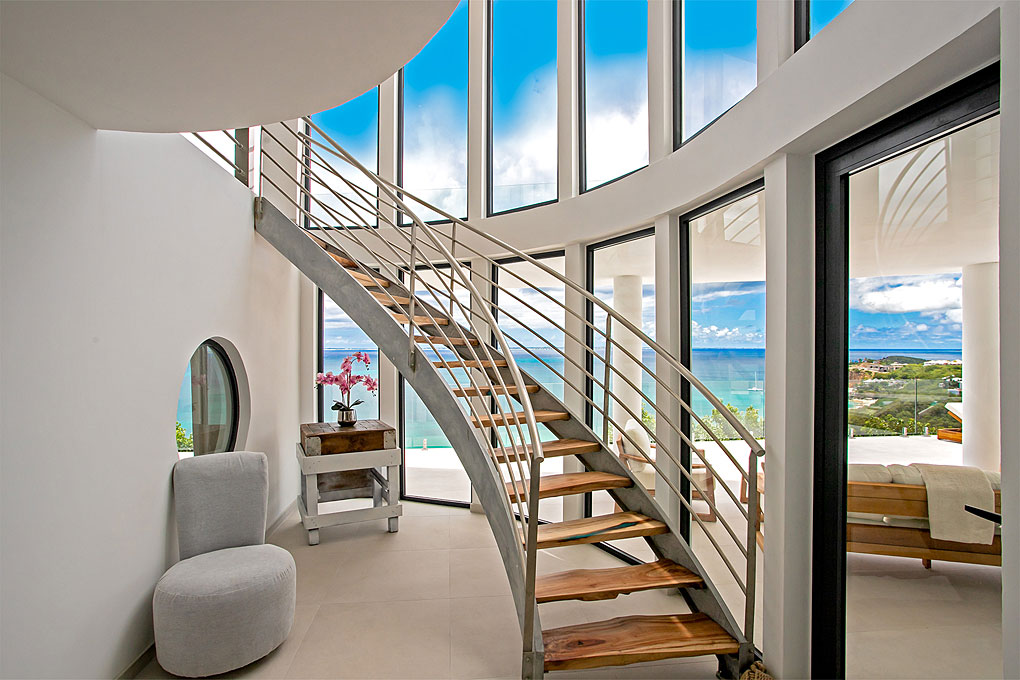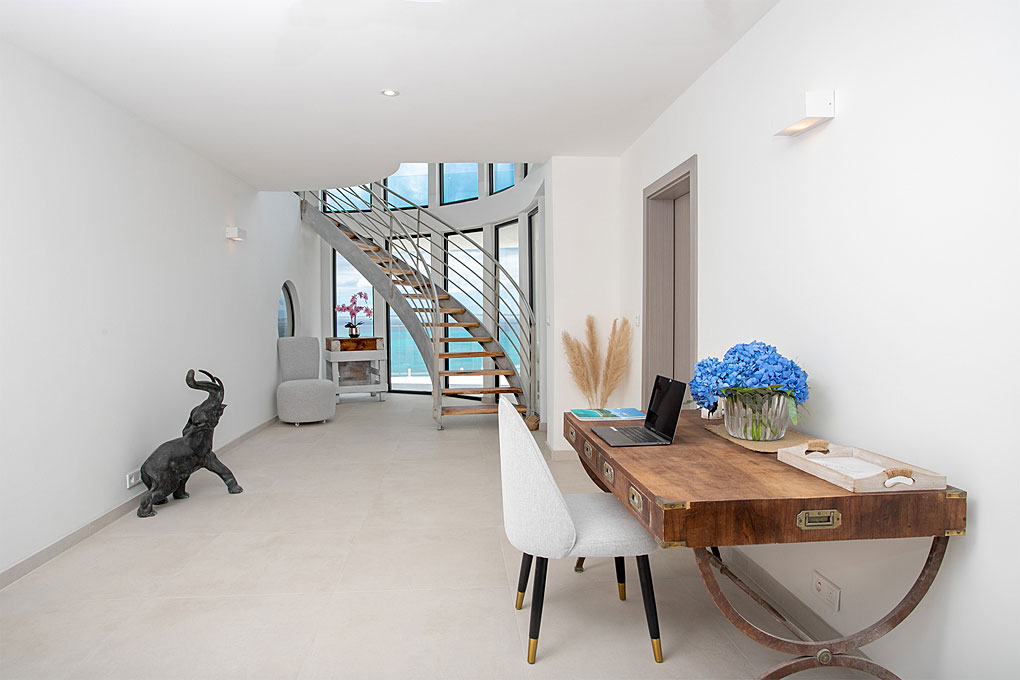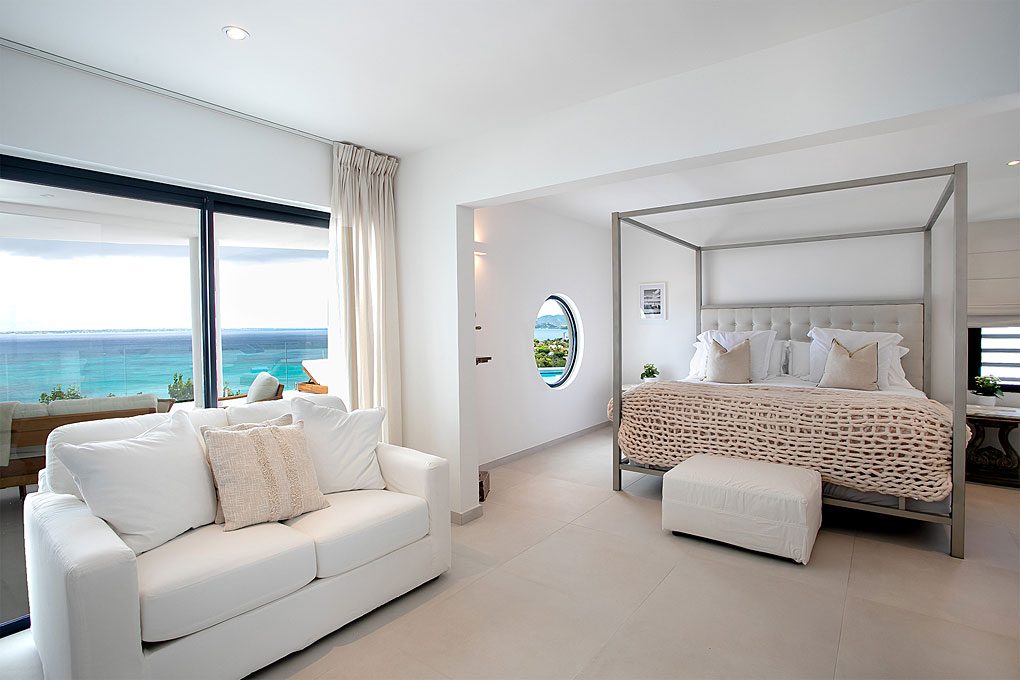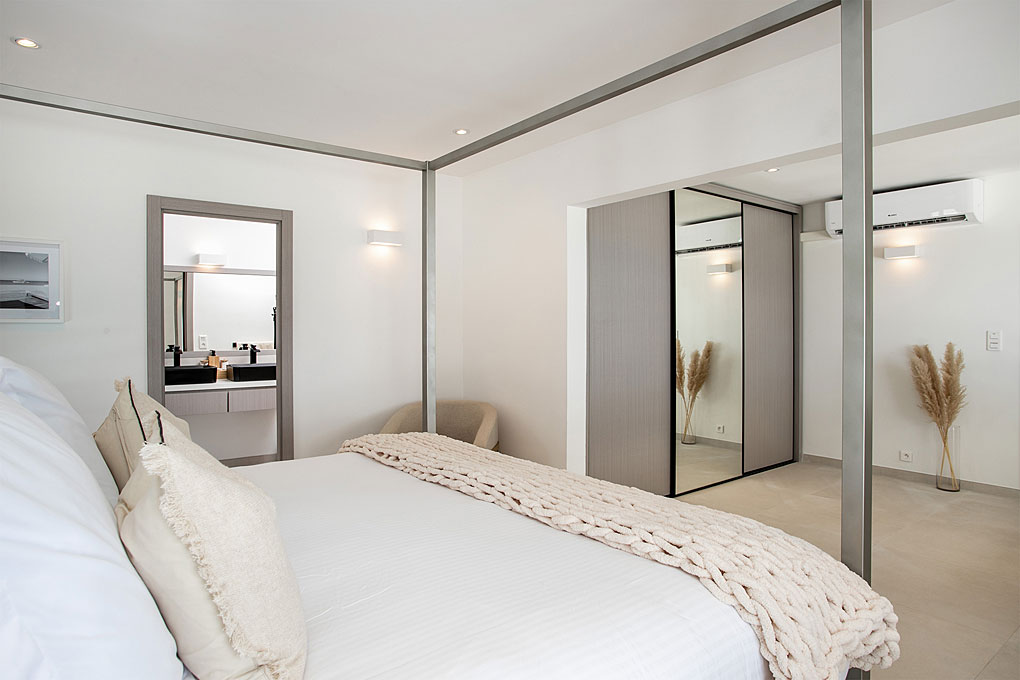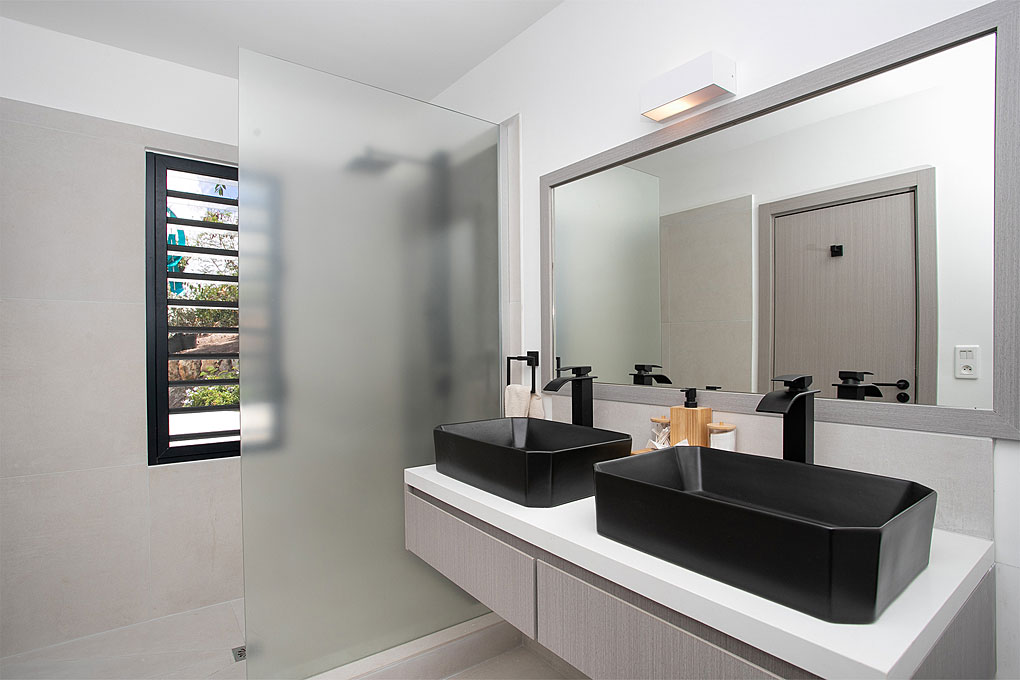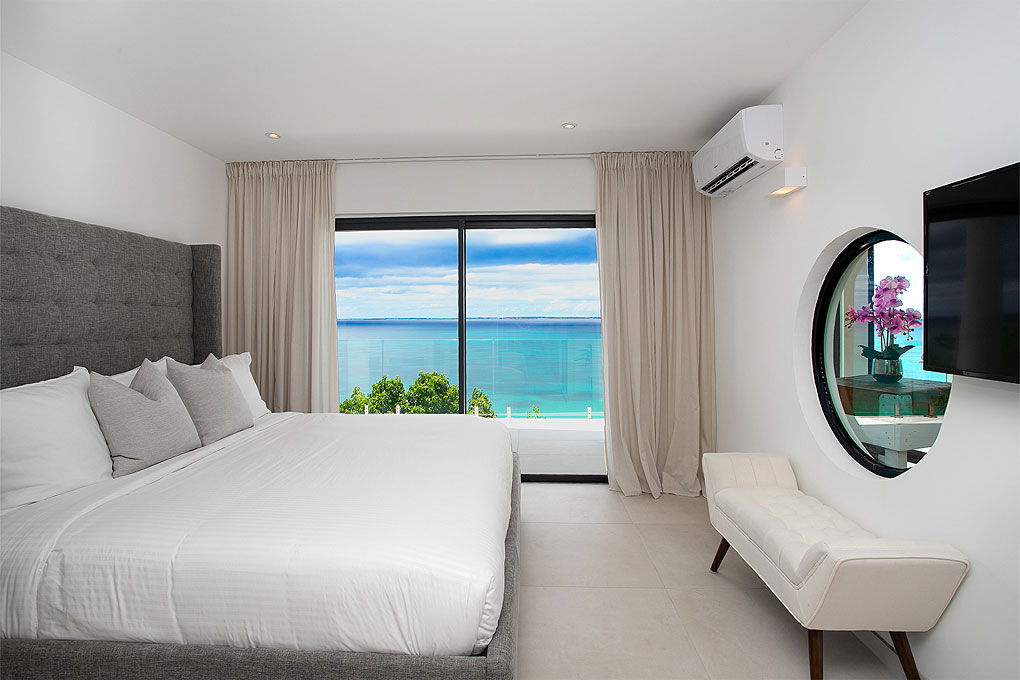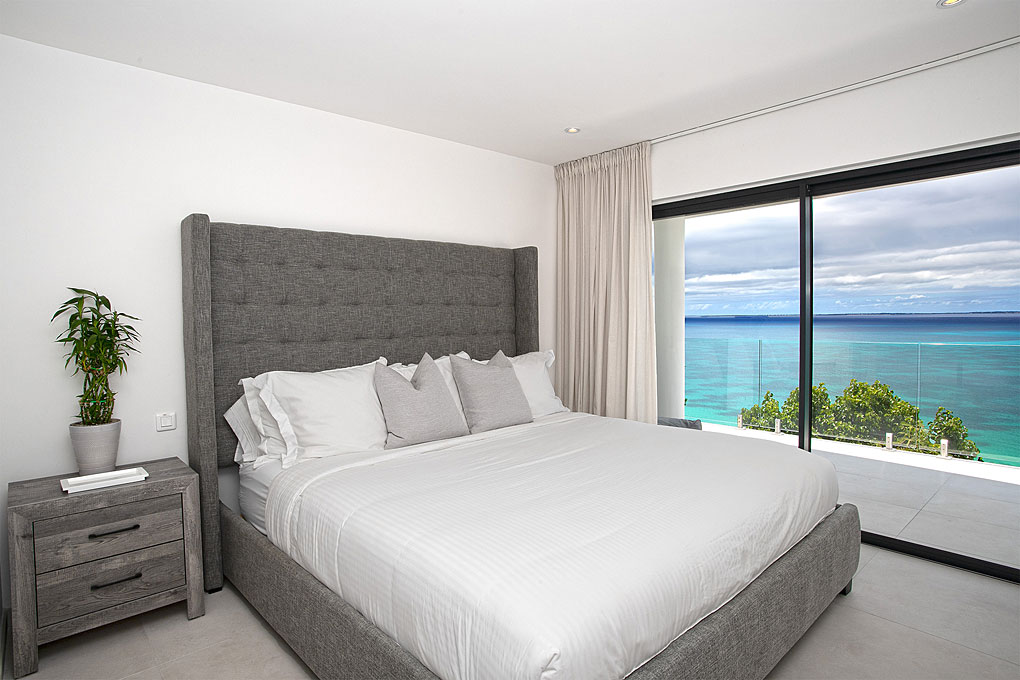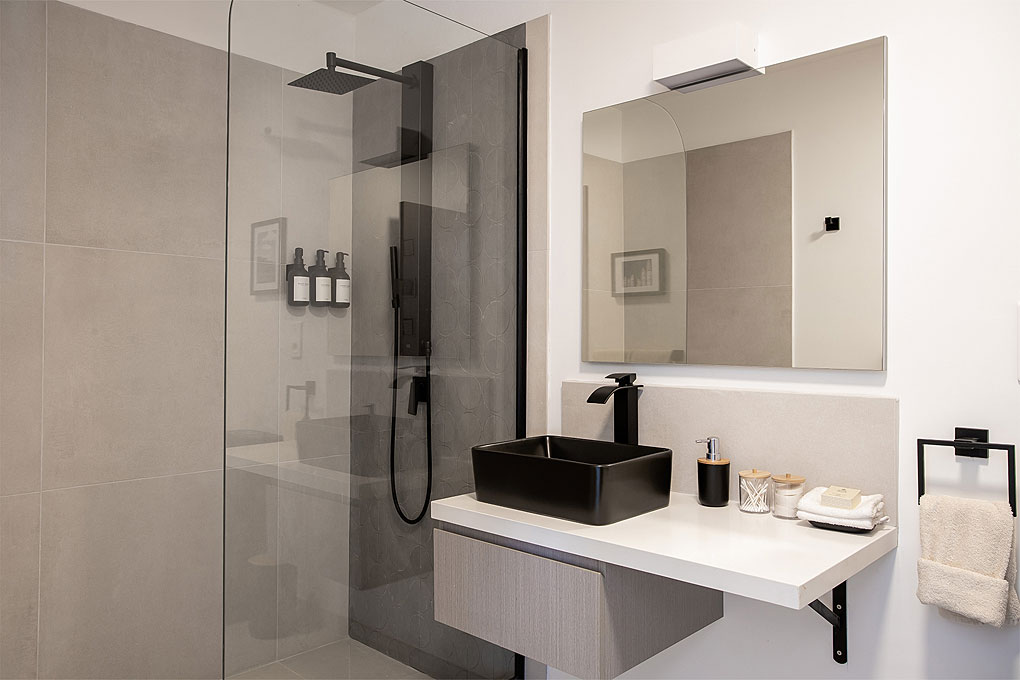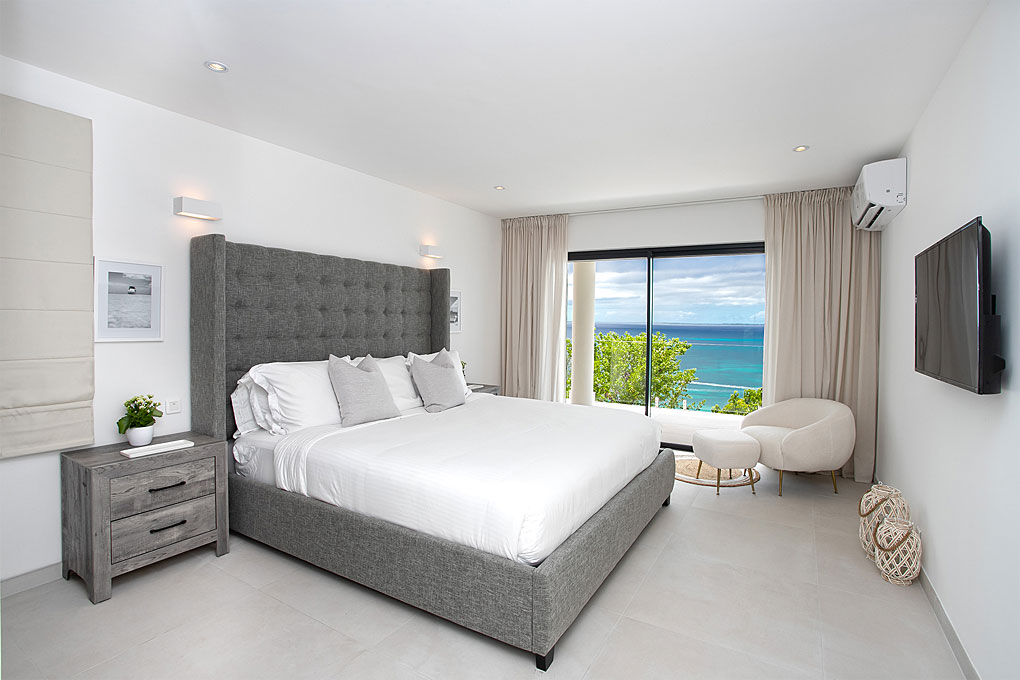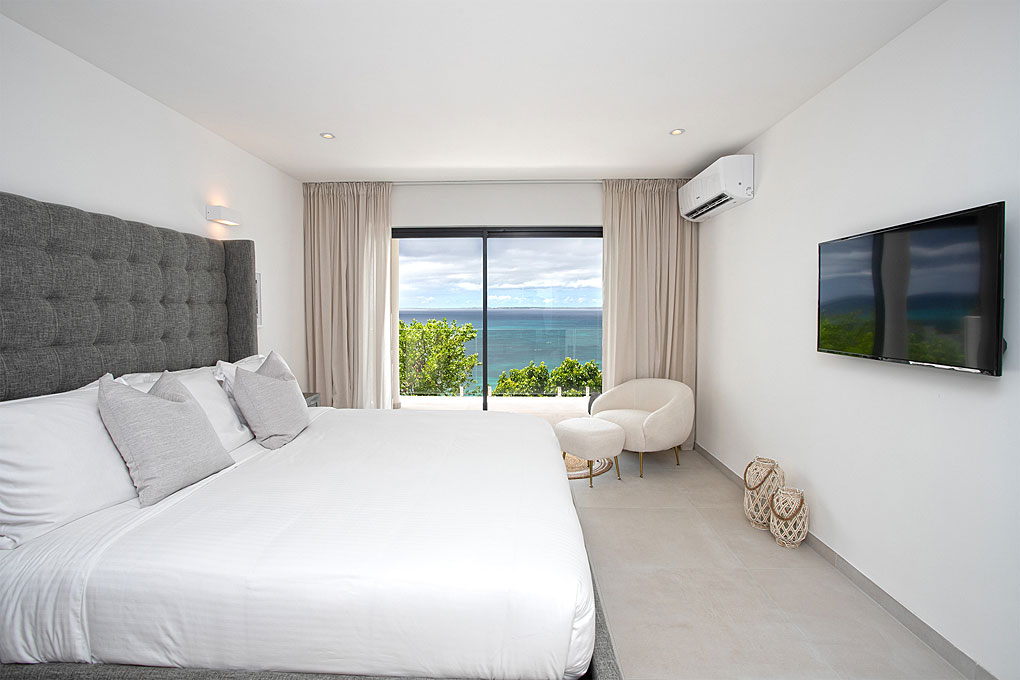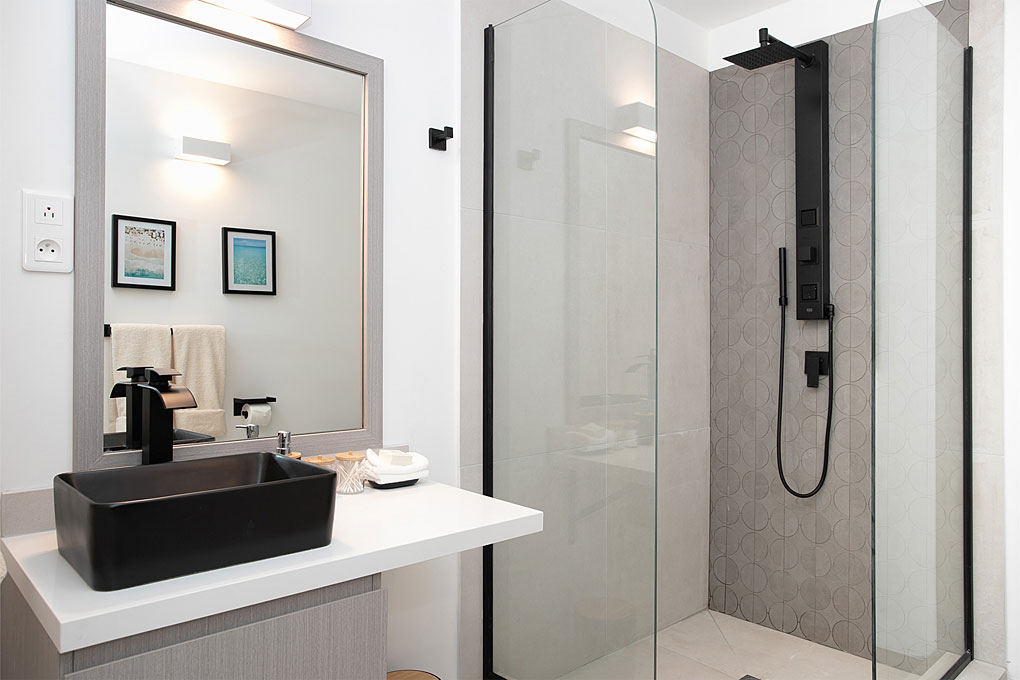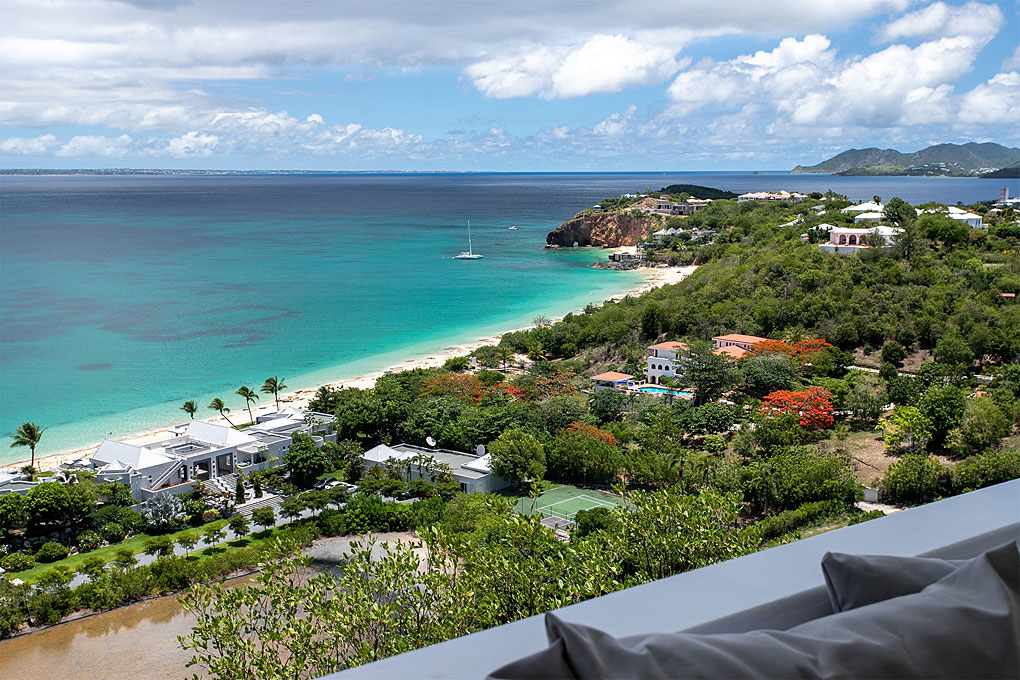 View many more pictures on another page.