Tying the knot on St.Maarten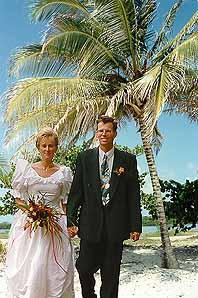 Yes, it is possible now for 'tourists' to get married on St.Maarten (Dutch side). These are the official guidelines for an unforgettable tropical island wedding in the Caribbean. Note that it is not as easy for 'foreigners' to marry on the French side. Wedding ceremonies can also be performed on the British island of Anguilla.
---
St.Maarten Marriage Policy
For the contracting of marriages on the Island Territory of St.Maarten, the following procedures are applicable and required (in accordance with the Civil Code of the Netherlands Antilles 1869 and as amended):
Birth Certificates of both parties are required (article 120). Persons of foreign nationalities should be 21 years and over in order to contract a marriage without consent of their parents or guardians (such also in accordance to the laws of their respective countries of origin). Persons of the Netherlands nationality should be 23 years and over (article 93).

Divorced persons may remarry in St.Maarten, but should provide a recent extract of divorce of this current year. Divorced women, can only remarry after 306 days upon inscription into the registry of divorce at the office of Civil State (article 83).

A period of 10 (ten) days is required by law in accordance to article 124 of the Civil Code of the Netherlands Antilles to register at the Office of Civil Registry. Persons desiring to get married must first declare before the officer of Civil State of their intentions of contracting a marriage. Office hours are Mondays through Fridays from 8:30am to 12:00noon and from 1:30pm to 3:30pm (article 99,100, 101). Publication of marriage banns starts from the first Saturday thereafter (article 124).

On Mondays marriages can be contracted for the sum of Nafls. 30 (approx. US$17). On Tuesdays through Thursdays marriages can be contracted for the price of NAfls. 90 (approx. $51); on Fridays for the price of NAfls. 110 (approx. $63); and on Saturdays for the price of NAfls. 270 (approx. $153). Prices include the marriage book. (These prices are in effect as of December 19, 1996, in accordance with "AB 1194 No. 11, Stampsordinance 1994").

To contract a marriage on the Island, one of the parties concerned must be an inscribed residence at the Census Office. Two witnesses are also required to be present at the marriage ceremony and must also be inscribed residents at one of the Census Offices of the Netherlands Antilles (articles 125 and 126). To become a resident of the Netherlands Antilles one must first have a valid residence permit and/or a permit granted by the Government Authorities, of which must be handled by the Immigration Department in question (P.B. 1986 No. 96).

Foreign persons wishing to get married in St.Maarten and who are not inscribed as a resident can request permission from the Lt.Governor of the Island Territory of St.Maarten. If permission is granted a temporary tourist permit will be issued in order to contract a marriage. A written request must be submitted to the attention of the Lt.Governor; this can be send to:

Lt.Governor Dennis Richardson
Government Administration Building
Clem Labega's Square
P.O. Box 943
Philipsburg, St.Maarten
Netherlands Antilles


We strongly recommend to also fax the Lt. Governor at 011-5995-424884. Please allow at least 2 months for a reply. Please note that you need to be on the island at least two days before the wedding date.

Registration at the office of Civil Registry needs to take place at least ten days before the marriage. This can be done by faxing their office at 011-5995-424267. Please send the fax to the attention of Mr. Alberto Mathew, Chief Registrar. The following documents are needed in order to register:

Copy of approval letter from the Lt.Governor (temporary tourist permit)
Birth certificate of both parties
Copy of civil status (in case of divorce a divorce certificate is needed)

The office of Civil Registry is located at:

Sualiouga Rd. #6
Philipsburg, St.Maarten
Phone: 011-5995-422457
Fax: 011-5995-424267

Please note that all documents must be translated into the Dutch language by an official sworn translator and/or by a Notary Public with their signature, stamp and seal. Translation can be done on St.Maarten by the following person(s):

Ms. Chery LaBega / Drs. Lic. Linda A. Richardson
Language Translator
Government Administration Building
Clem LaBega's Square
Philipsburg, St.Maarten


The Officer of the Civil State performs the marriages after all documents are found to be correct, after which if requested by parties, a clergyman can perform the wedding ceremony at the "Wedding Hall" situated at Sualiouga Rd. #4, Pondfill, Philipsburg.

Other required documents are:

A valid return ticket, or a ticket to travel elsewhere outside the Netherlands Antilles
Required documents for returning to the country of origin, or for further travel elsewhere
Sufficient means to be able to support yourself during your stay in St.Maarten.
- End St.Maarten Marriage Policy -
---
This information was provided to us by the St.Maarten Tourist Board and should be current as of October 29, 1997. Be aware that we are not informed when these rules and regulations change, therefore use the information above at your own risk.