DINNERS
–
L'Estaminet
– Very enjoyable meal at this small restaurant in Grand Case located directly across from Le California.
They have free parking almost next door. Actually parking is $5., but show your stub and $5. is deducted from your bill.
Norm had Pork Kebobs with walnut/ caramel sauce, Betty had Sole cooked with vegetables in a clear bag.
Paul and Norm split the sample plate of various chocolate items. Betty and Carol split a crème brulee. With wine and drinks, bill was $80./couple including tip. No serv chrg. After dinner we were presented with their signature Tiramisu drink. Think it was a shot glass with layers of kahlua, baileys, and a dusting of cocoa on top. Very nice.
Mama Pizza
–(2) Oyster Pond. They also have a place in Maho area. Carried out one night. Ham and Cheese - $15.00 w/tip, plus they gave us a loaf of their bread. Ate on patio the other with Chris and Jennifer. Two pizzas, 2 beers, 2 sodas, $39.25. No ser.chrg. Nice place. Good pizza.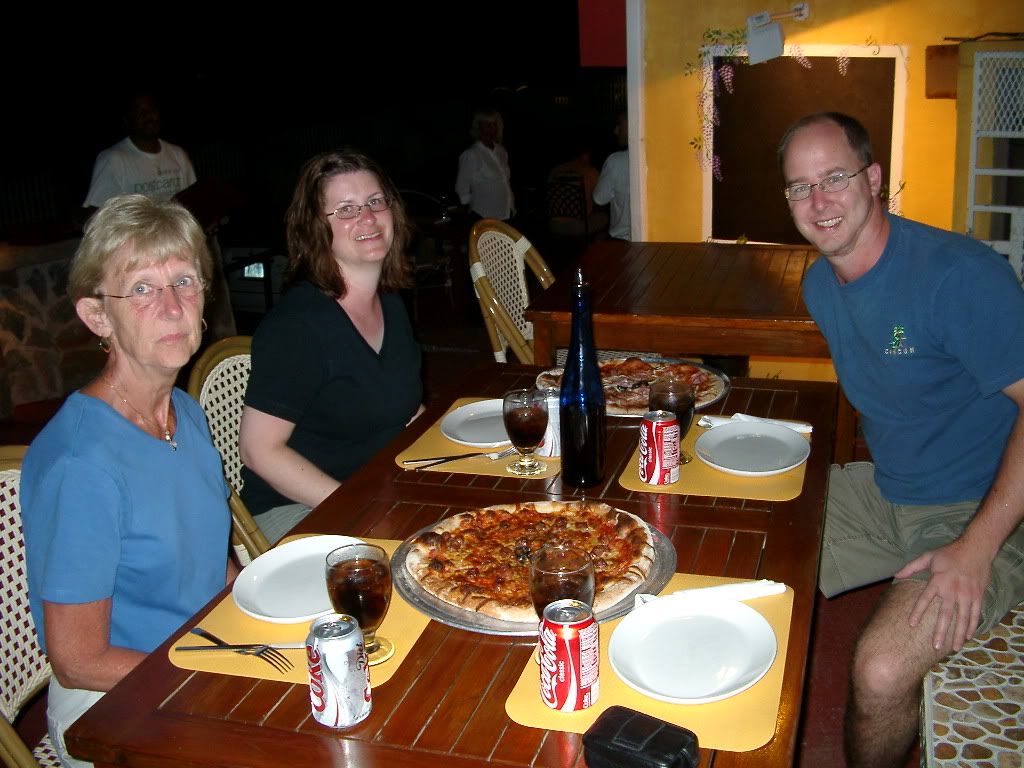 Dinghy Dock
–(3) Met Bruce and Susan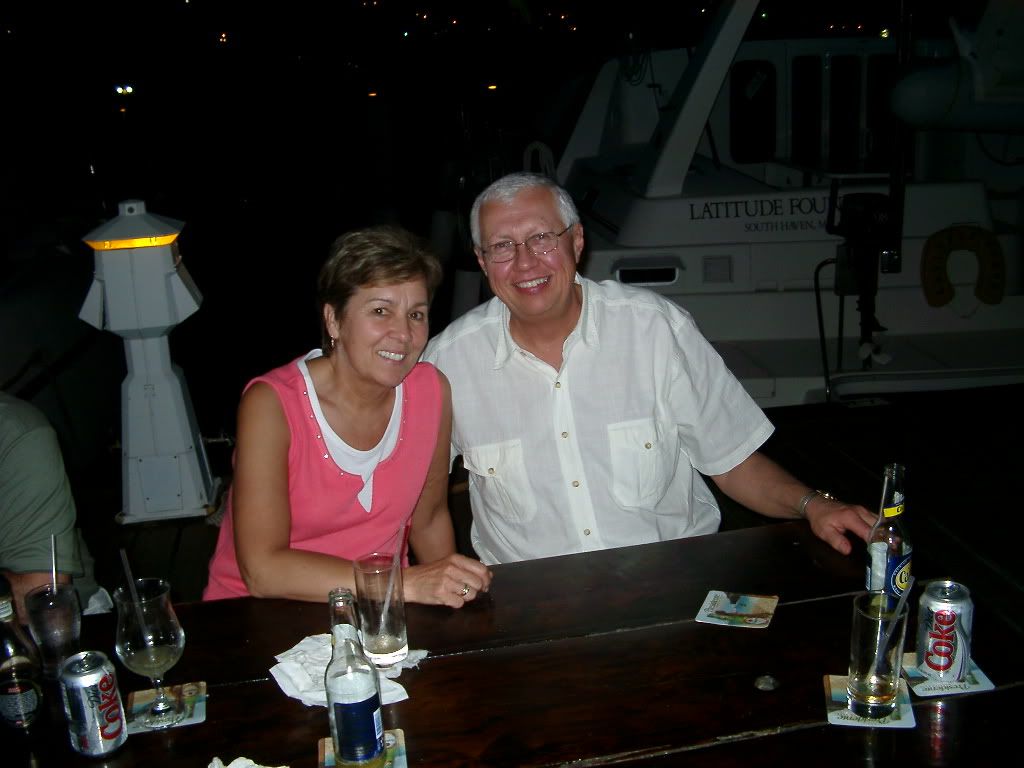 where we discussed his future "floating dentistry on a yacht" idea. Betty and I had their ribs w/fries $15. w/tip. No serv. chrg. It was after Happy Hour and ribs were a little dry even with sauce. Other visit we ordered a little earlier and the ribs were their usual fall off the bone tender with a great sauce.
tried their Burger one night. With fries, 2 sodas - $15, no serv chrg.
Peg Leg Pub –(
3) One night, on a strange schedule, we stopped at PLP for Happy Hour which runs 4-6pm. Had a beer, tea, and sampler appetizer platter for $15.including tip. PLP 's appetizers are half price during HH and are very large.
The other visit was with Chris and Jen on Wednesday. With reservations, we had a wonderful table close to entertainment.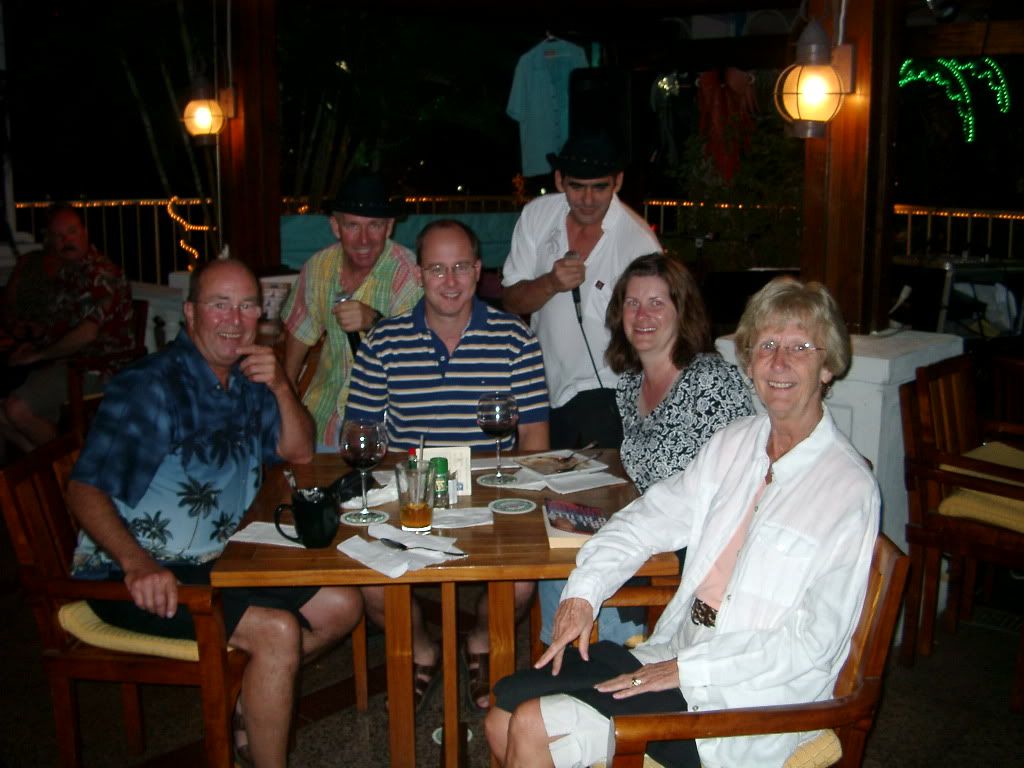 The new PLP locations is so nice. Great parking, Very open restaurant, and wonderful food. We had a family style salad, a large filet plate for Betty and I, kids had a surf and turf plate. For dessert we had a hot fudge sundae, while Chris and Jen had a molten chocolate cake. This was followed by some dessert coffees. Wonderful time. Great entertainment of Cover Two Cover. Highly recommend catching these two guys, but make reservations.
Returned again for Happy Hour. Norm had the Steak Kabobs which were tender, juicy, and abundant. Betty had the Beer Battered Chicken Fingers. With drinks and tip - $18.00.
Talk Of The Town
– Although Harmony night was postponed because of "iffy" weather, we went anyway and had a inexpensive dinner of ribs, chicken, plantine, potato salad, slaw. Good meal
Buccaneer Beach Bar
– (1*) Actually we went here twice. The first was with kids after their arrival for a welcoming BBC,….but they were out of bananas. Pits.
Returned later in week and had burger/fries/ rib bowl and 2 sodas - $20.w/tip. No serv. chrg. Always good.
Pineapple Pete's
– Grilled Mahi Mahi with vegetables and rice and, of course, Crème Brulee. Soda, wine. $28.30 with serv. chrg. Enjoyable meal. Service was a little slower than usual, but it was packed. Glad we had made reservations.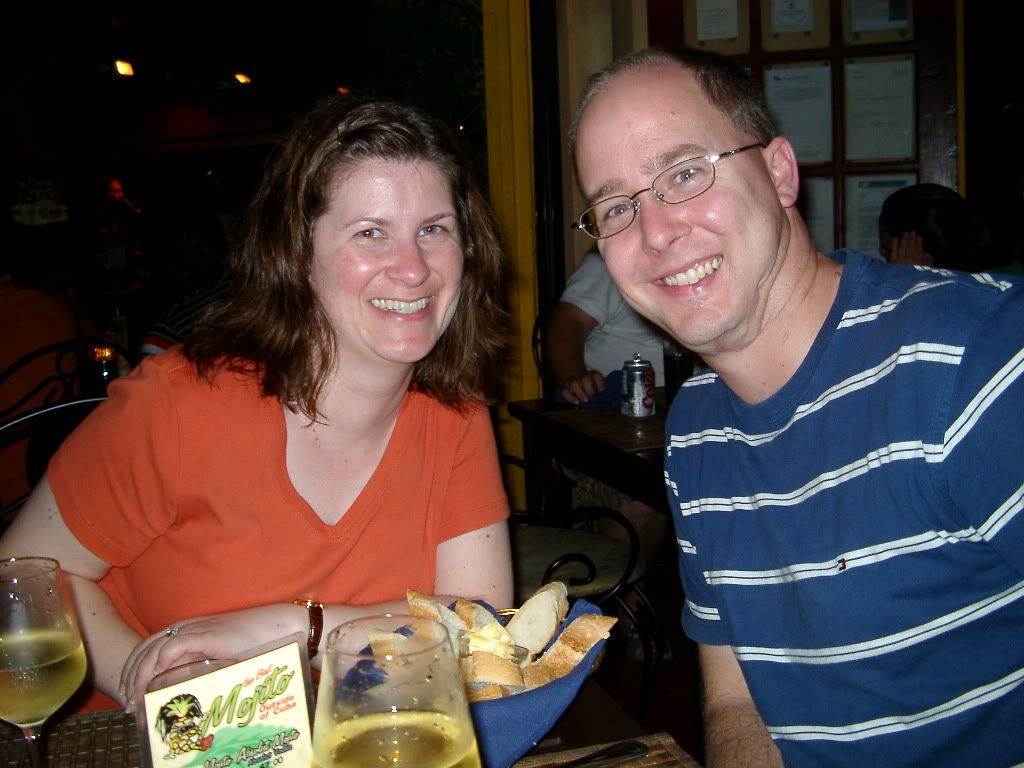 Chesterfields
– (2)
First time we had the grilled Grouper. Betty ordered the garlic/butter sauce, Norm order the creole sauce. Neither of us used much sauce. The fish was so delicious and golden brown that sauce wasn't needed. Went back the second week with kids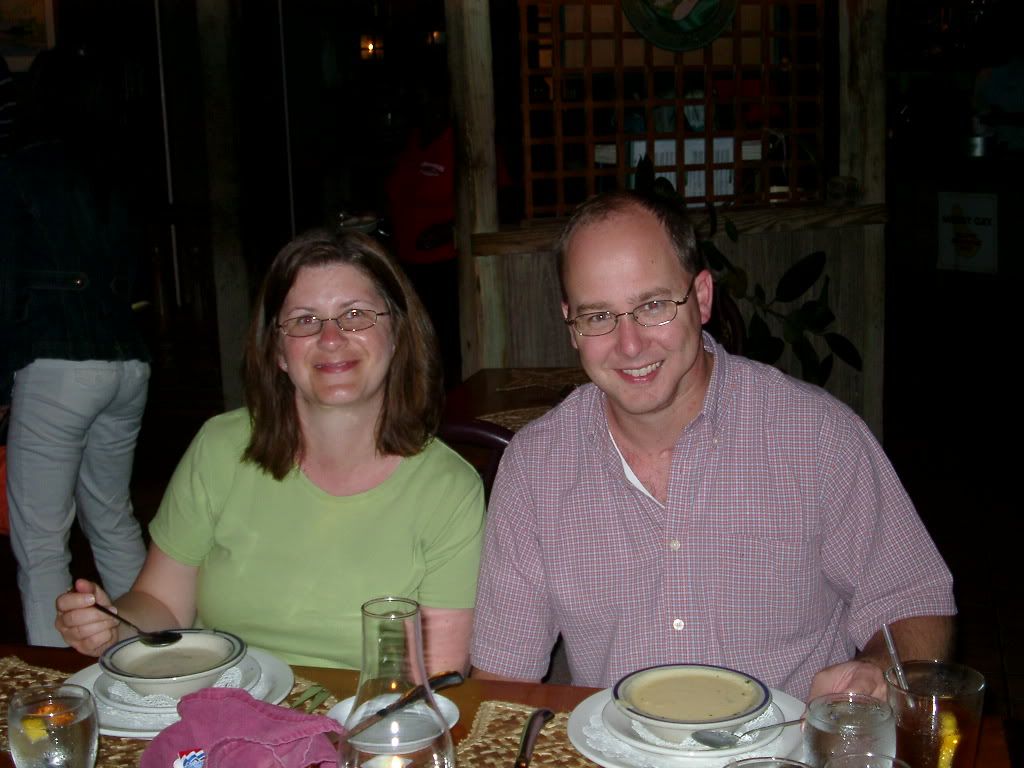 and had same meal and again a wonderful piece of grouper. Each grouper meal with veggies, rice, and tea was $18.00. Not including serv chrg .
Iguana Bar
–(2) Didn't really have a meal here, but did have their Fried Pot Stickers during the SXM Lovers Party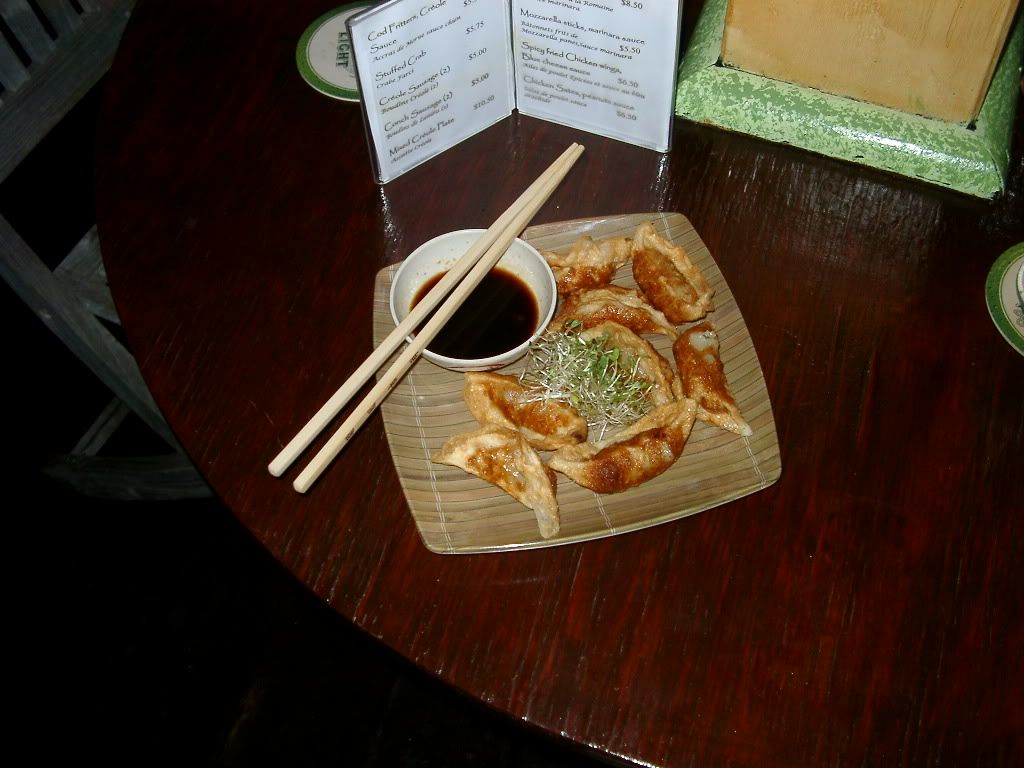 They were as good as they look .
Also stopped by after the cancelled Harmony Night for dessert. Chris and Jennifer split a Apple Tart with Ice Cream and Cinammon. It was gone before I could get a picture. Betty and I split the Fried Bananas with chocolate sauce. And YES they were very tasty
Sopranos Pizza
– Stopped by for a tasty pizza and salad, with wine and soda - $34.00, no serv chrg.
Edited 1 time(s). Last edit at 03/03/2009 08:10AM by SXMNorm.