Posted by:
SXMNorm
(---.dsl.stlsmo.sbcglobal.net)
LUNCH
–
Baywatch
(2) – Ribs, fries, 2 sodas, beer, Mango Colada - $27.50 plus serv. chrg. 4.50. It was very crowded. Got the last of the ribs. They were only average.
Second trip we ate earlier. Took Chris and Jennifer. Norm had Lasagna, Betty the NJ French Dip, Jen had the Beer Battered Shrimp, and Chris enjoyed the Clams with a breaded coating and wine sauce and whatever. Five vodka lemonades and a soda, bill was $108. with serv. chrg
Beau Beau's
(5) – Located on Dawn Beach, able to charge meal to our room at OBBR, free sodas and tea to OBBR owners with VIP card, and our boycott of Mr Busby's, makes Beau Beau's a good choice for lunch. Food is also good. We sampled the Chicken Wrap, 8oz Burger, Triple Decker Sandwich, Ribs/Chicken Combo, Chicken Breast Sandwich. All were good, came with thin fries, and slaw and reasonably priced. Carib is 2 for $3.00 all day.
Sugar Cane Café
(3) – Sampled Chicken Caesar Wrap, Philly Cheese Steak, Buffalo Chicken Wrap, French Dip w/ lots of gooey cheese. Enjoyed all meals.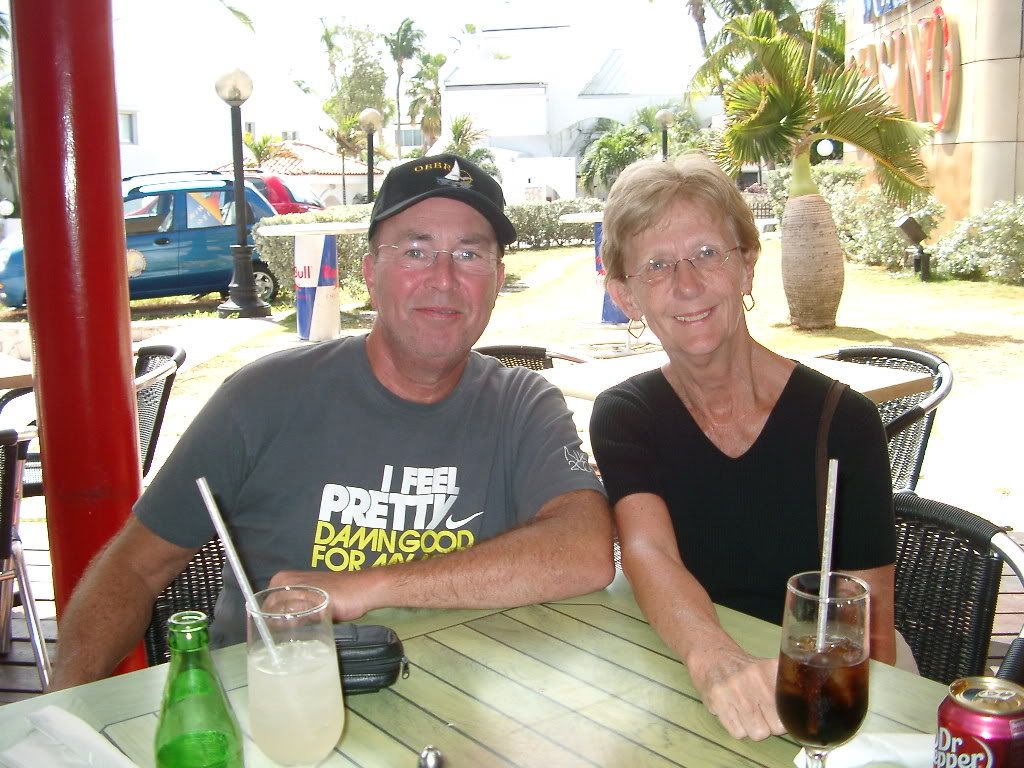 Peg Leg Pub
– Sliders, came with fries, slaw. Nice setting.
Mark's Place
– Stopped by after visit to Art Fair with Chris and Jen. Heavy rain storm while we ate. Chicken, Bacon, Gouda Sandwich, Steak Sandwich, Shrimp Fritters, 3 beers, 1 tea. - $36.00, no serv chrg. Good food, good service.
Taloula Mangos
– Chicken Quesadillas, 2 sodas, with serv. chrg. and tip $16.00. Nice setting on Boardwalk. Good food.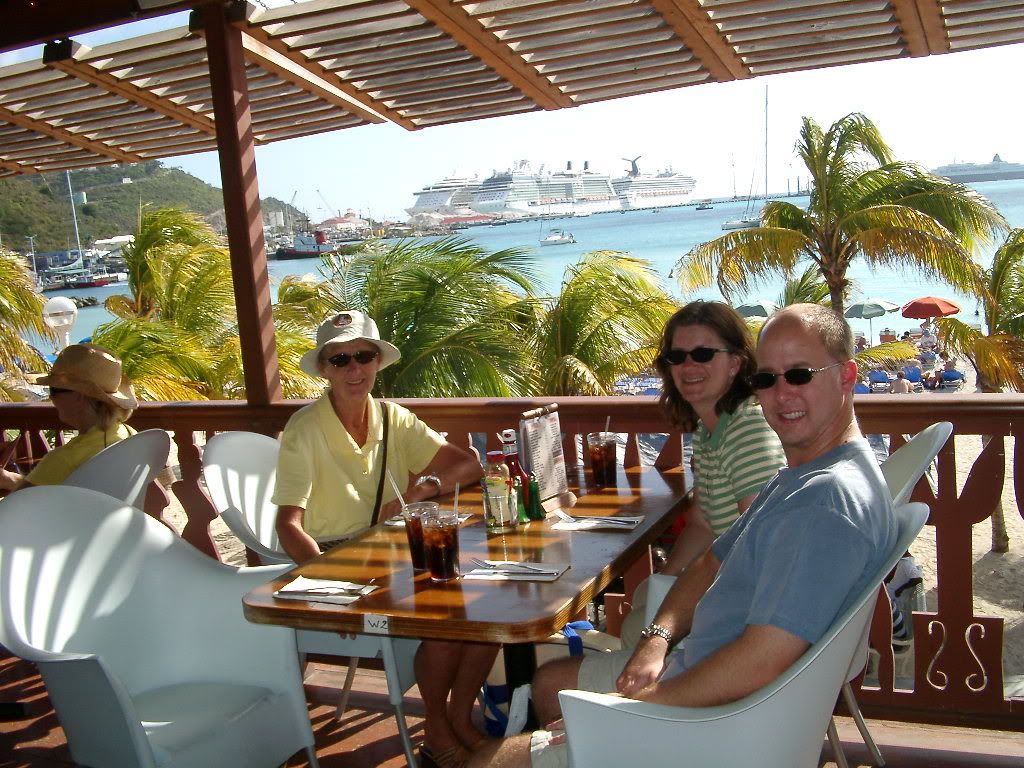 Karakter Bus
– While staying in Simpson Bay Beach area we had to check out Karakter's. Found it to be as good as everyone has said. Great location, free beach chairs and umbrellas with drink and food purchases.
We sampled the Chicken/Mango Wrap. Good taste with a little spice someplace in it. Not the huge portions you come to expect in SXM. Also sampled the Pina Colada Pie which was a special for the day. With a Salty Dog and soda, bill was $23.50. Intend to go back and try some of the other menu items.
Celine
– Not sure this should be under lunch places, but we took the Celine Cruise to Tintamarre. The lunch meal Neil puts out is incredible. Grilled Mahi Mahi, ribs, seafood salad, 5 bean salad, rice, bread,