Contact: Annemarieke Jongsma
email me
or call 1-888-712-3224
Villa Cacao
Toiny, St.Barths - 4 bedroom villa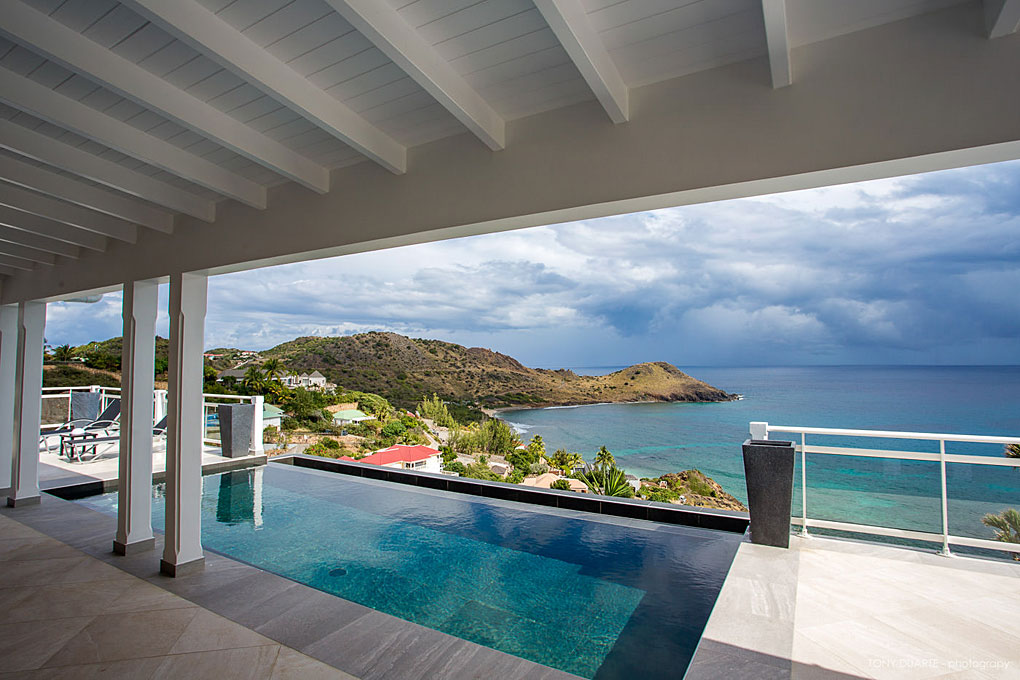 CACAO is a 4 bedroom, 4.5 bathroom St Barths villa for rental, located in Toiny with a beautiful and open view on the ocean, the sunrise, the islands St Kits, Nevis and St Eustatius.
The villa is built on 2 levels. The air-conditioned great room, opens onto the pool deck and features an equipped kitchen, living and dining room.
3 bedrooms are located on the main floor and the 4th bedroom is on the lower level with private terrace, kitchen and living area. All bedroom have an en suite bathroom and dressing.
Villa CACAO is the perfect place for a family or friends looking for a peaceful vacation, gazing at the surfers, the ocean, the sunrise, strolling around the beautiful wild coast of St Barts !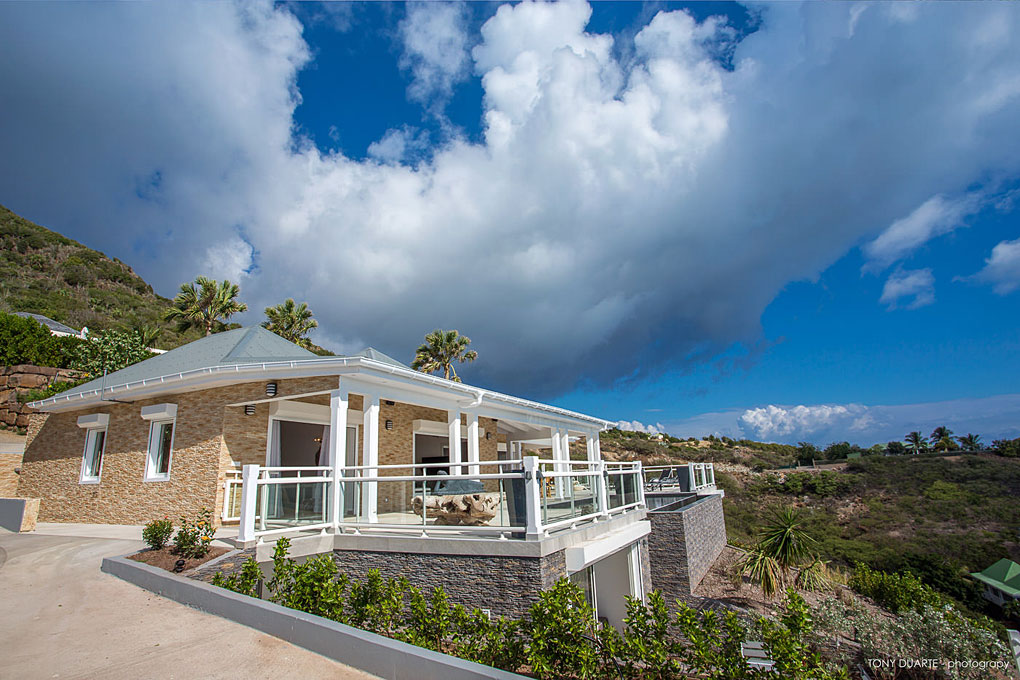 Villa Specifications:

Location: Toiny
View: Ocean View
Pool: Nice heated rectangular infinity pool, 3m x 7m, 1.40m deep. Sunny deck around with 8 lounge chairs
Bedrooms:

Bedroom 1- Master bedroom - Next to the living room - Ocean view, large king size bed, air-conditioning, ceiling fan, flat screen television with Dish Network, Canal Satellite, Apple TV, WIFI, living area, safe, dressing. En suite bathroom with rain shower and regular shower head, 2 wash basins, hair dryer, towels and beach towels. Connects to the living room.
Bedroom 2 – Next to the living room - Ocean view, large king size bed, air-conditioning, ceiling fan, flat screen television with Dish Network, Canal Satellite, Apple TV, WIFI, dressing. En suite bathroom with rain shower and regular shower head, 2 wash basins, handicapped facilities, hair dryer, towels and beach towels. Connects to the living room.
Bedroom 3 – Next to the bedroom 2 - Ocean view, large king size bed, air-conditioning, ceiling fan, flat screen television with Dish Network, Canal Satellite, Apple TV, WIFI, dressing. En suite bathroom with rain shower and regular shower head, hair dryer, towels and beach towels.
Bedroom 4 – Studio - Lower level - Ocean view, large king size bed, air-conditioning, ceiling fan, flat screen television with Dish Network, Canal Satellite, Apple TV, WIFI, dressing. En suite bathroom with rain shower and regular shower head, 2 wash basins, hair dryer, towels and beach towels. Living room and kitchen with electric oven, gas stove, hood, fridge, filter coffee machine, electric kettle. Private terrace and parking access.

Living/Dining:

Air-conditioned living, opening onto the pool deck, with ceiling fan, furnished with black and white leather sofas, flat screen television with Canal Satellite and Dish Network, Apple TV, BOSE surround sound system with jack plug, telephone, WIFI. Outside living on the garden by the bedroom 3. Outside dining on the covered deck by the pool, with a large rectangular wood table for 10 guests. Inside air-conditioned dining with table for 6 guests. Powder room with handicapped facilities

Kitchen:

Air conditioned kitchen with a bar (3 stools), equipped with electric oven, gas stove, hood, fridge and freezer with ice maker, microwave, dishwasher, toaster, Nespresso machine and regular coffee machine, blender. Service for 10. Gas BBQ on the deck

Amenities:

4 wheel drive vehicle needed, Apple TV, French Satellite or TNT channels, Fully air conditioned, Heated pool, Ipod dock, Powder room, Safe, Surround sound system, Telephone, US Satellite, Wifi

Miscellaneous:

Car parking for 4 cars. Children friendly, pets on request

Location:

Gustavia : 20 minutes - Airport : 15 minutes - Restaurants : 3 minutes - Grocery : 10 minutes - Beach of Toiny : 2 minutes

Weekly rates (excl. 15% government tax and service):
                                  1 bedr.   2 bedr.   3 bedr.   4 bedr.
    April 15 - December 14:       $ 5,000   $ 6,000   $ 6,500   $ 7,000
    December 15 - April 14:       $ 7,000   $ 8,000   $ 8,500   $ 9,000
    Christmas (2 week min.):      $ inq.    $ inq.    $ inq.    $ inq.
    
    A 10% service charge will be added to all rates. All villa prices are 
    subject to an additional 5% Accommodation Tax. Rates are based on 2 
    guests per bedroom. Above rates are subject to change without any 
    prior notice. 14 nights for Christmas / New Year's Eve
Villa Location: