Caribbean Villas of Grenada

Grenada, the "Spice Island," is known for its unspoiled, mountainous beauty and for the friendliest people in the West Indies. Very gentle and a bit shy, Grenadians speak English with a delightful calypso accent and will make your stay on their island very special. Grenada's waterfalls, lush rain forests, volcanic crater lake, tiny villages, cocoa, nutmeg and banana plantations, rum distilleries, scenic hiking trips, pristine coral reefs, and hidden-away unspoiled beaches all make Grenada one of the most popular ecotourism destinations for those who like to discover off-the-beaten track natural beauty and charm.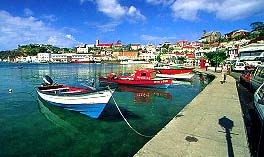 Be sure to explore the Market Square very early on a Saturday morning for fragrant local spices, exotic fruits and roasted cashew nuts just off the tree, of a handwoven straw hat or bag. Grenada has lots of history and has had a varied and absorbing past, as seen in Carib Indian articacts, ancient forts, and old plantation homes - but Grenada's modern day watersports and excellent restaurants will also delight you!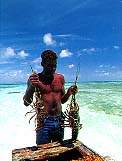 The currency is the Eastern Caribbean (EC) Dollar, which is converted at about $2.70 E.C. per $1.00 U.S.; U.S. dollars are also gladly accepted nearly everywhere. Passports are not required of U.S., Canadian or British citizens; you mush produce two pieces of identification, one with a photo (such as a driver's license or expired passport), plus a birth certificate, or other such combination. You'll also need to show your return airline ticket. Both American Airlines and BWIA offer direct flights to Grenada from the U.S.A.
---

Villa Caribella (3 bedroom, Calivigny, St. David's, pool, rental car included)

           # of persons:     1-2      3-4      5-6
 April 10 - December 17:   $ 3,230  $ 3,442  $ 3,655
    January 9 - April 9:   $ 3,825  $ 4,250  $ 4,675
   Christmas/New Year's:   $ 6,500  $ 6,500  $ 6,500

Swallow Villa (3 bedroom, L'Anse-aux-Epines, pool, beach across street)

           # of persons:     1-2      3-4      5-7*
 April 10 - December 17:   $ 5,000  $ 6,000  $ 7,000
    January 9 - April 9:   $ 7,000  $ 8,000  $ 9,500
   Christmas/New Year's:   $15,000  $15,000  $15,000
---
---
for more information and reservations
e-mail grenada@gobeach.com or call 1-888-71BEACH (1-888-712-3224)
GoBeach Vacations | www.gobeach.com
Your source for the best Caribbean vacation you've ever had!
---
| Quick Link | Search | Reservations/Info Form | Other Destinations | E-mail Us |