Life is a beach ...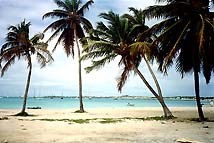 This is especially true on St.Maarten / St. Martin. The island has 36 beaches, each with its own distinct atmosphere. You will find them with waves high enough for surfers, and calm ones for the small kids. There are busy and deserted beaches for the honeymooners. Tiny beaches between rocky cliffs and some which seem to stretch endlessly. One thing they all have in common, they are clean, the sand is white, and the sea is crystal clear. So while you are vacationing on the island, try to visit as many as you can! Here are just a couple of examples of our favorites:
Cupecoy Beach:
This beach is surrounded by a beautiful rock formation. If you get to the beach early you may find yourself relaxing in a cave all to yourself! There are no restaurants or bars on this beach, however you might see a local guy come by with his cooler trying to sell you soda's and beers. On the far end of this beach clothing is optional.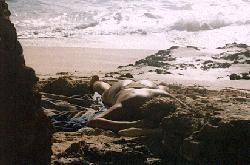 Maho Beach:
This beach is a great experience. It is located at the end of the landing strip of the airport. Be sure to bring your camera because now and then there will be a Boeing 747 passing close over your head. Don't sit in the middle with your towels, umbrella, etc., you will find out why when you're there!
Baie Rouge:
This beach has it's own charm. You can sit on the beach and get a taste of our neighboring English island Anguilla. Look to your side and find yourself walking down a great stretch of almost deserted beach and feel the sand between your toes. On this beach you can rent lounge chairs and have a refreshing piña colada or some barbecued chicken at the local shack. They also rent snorkeling gear, when you swim out to the right following the shore line you will see a cave through which you can snorkel. Once there you will also find a very private "two person" beach.
Longue Bay:
This is an extension of Cupecoy, but without its rock formations. As the name implies it is one of the longest and one of the quietest. The very exclusive La Samana hotel which has hosted many famous Hollywood stars, is located on the left side of the beach. This beach is also great for snorkeling, many fish, though not too much coral.
Orient Bay: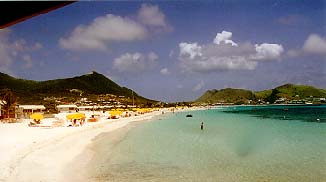 This is one of our better known and busier beaches, because it is a clothing optional beach (mostly in front of the naturist resort Club Orient, located at the end of the beach). More in the middle of the beach you will find the local hangout with restaurants and live bands playing great music. Get a tan while you eat local lobster and learn to dance the merengue. After lunch rent a jetski, go parasailing or participate in a local hobie cat race. Snorkeling equipment is also available at a couple of places.